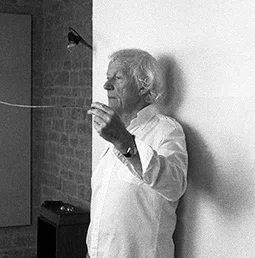 Roman Opalka
(1931 - 2011)
About artist
(1931 - 2011)
Wojnę spędził w Niemczech, w 1945 powrócił do Francji, rok później przyjechał do Polski. W 1950 ukończył studia na łódzkiej PWSSP, a w latach 1950-56 studiował na warszawskiej ASP. Od 1965 działał we Francji. Przedstawiciel konceptualizmu. Początkowo tworzył kwasoryty (m.in. seria Opisanie świata); później kompozycje przestrzenne z płótna, zwane "poduszkowcami"; a od 1965 zaczął pokrywać płótna, nazywane przez siebie "detalami" rzędami kolejnych cyfr, zaczynając od jedynki (pierwszy został zapisany liczbami od 1 do 35327), co miało oddawać upływ czasu. Płótnom towarzyszyła fotografia twarzy artysty ukazująca oznaki starzenia się i nagranie jego głosu. Jest laureatem wielu nagród, między innymi: Nagrody Krytyki Artystycznej im. C.K. Norwida. Brał udział w Biennale w Sao Paulo (1969 i 1977), Documenta w Kassel (1977 ), Biennale w Wenecji (1995).
Upcoming auctions
No artworks available now.
Currently we don't have any available works. Contact us, and we'll let you know as soon as they show up.
Contact us