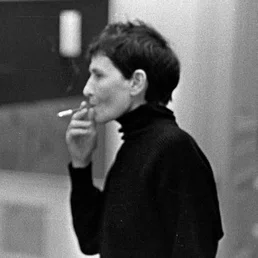 Maria Jarema
(1908 - 1958)
About artist
(1908 - 1958)
Studiowała w latach 1929-35 w krakowskiej ASP w pracowni X. Dunikowskiego. Jeszcze w okresie studiów związała się z Grupą Krakowską, skupiającą awangardowych plastyków o radykalnych poglądach artystycznych i społecznych. Uczestniczyła w wystawach Grupy oraz ZZPAP prezentując początkowo rzeźby, a dopiero od 1938 obrazy. Równocześnie współpracowała jako scenografka i aktorka z teatrem "Crico", założonym przez jej brata, Józefa Jaremę oraz z teatrzykiem kukiełkowym Adama Polewki. W 1937 wyjechała na kilkumiesięczne studia do Paryża. W okresie powojennym brała czynny udział w życiu politycznym i artystycznym krakowskiego środowiska plastycznego. Wiele wystawiała w kraju i za granicą (m.i. na XXIX Biennale w Wenecji), uczestniczyła w konkursach scenograficznych i rzeźbiarskich, współpracowała podobnie jak poprzednio z teatrem, tym razem "Cricot 2" Tadeusza Kantora. Lata pięćdziesiąte stanowiły również apogeum rozwoju jej twórczości malarskiej. Powstały wówczas cykle monotypii Głowy, Wyrazy, Rytmy, Filtry i Penetracje. Artystka stworzyła własny, oryginalny świat form obdarzonych wielką siłą wyrazu potęgowaną przez kompozycję karzącą im przenikać się w ruchliwych, zmiennych układach.
Upcoming auctions
No artworks available now.
Currently we don't have any available works. Contact us, and we'll let you know as soon as they show up.
Contact us