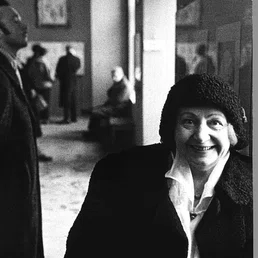 Maja Berezowska
(1898 - 1978)
About artist
(1898 - 1978)
Naukę malarstwa rozpoczęła w prywatnej szkole Mikołaja Roericha w Petersburgu, później uczyła się w Krakowie u Józefa Pankiewicza i Leona Wyczółkowskiego. Studiowała też w Paryżu u Faujity oraz w Monachium. W latach 1920-26 była żoną Kazimierza Grusa - satyryka i ilustratora lwowskiego. Przez kilka lat mieszkała w Paryżu. W 1941 została osadzona na Pawiaku, a następnie w obozie Ravensbrück. Do kraju powróciła w 1946 roku. Tematem jej prac były kompozycje kwiatowe i sceny erotyczno-obyczajowe. Oprócz malarstwa zajmowała się też scenografią, projektowaniem plakatów i wystrojem wnętrz. Jej prace można oglądać m.in. w Paryżu, we Włoszech i Szwecji.
Upcoming auctions
No artworks available now.
Currently we don't have any available works. Contact us, and we'll let you know as soon as they show up.
Contact us