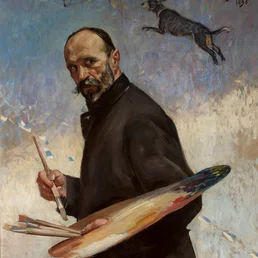 Julian Falat
(1853 - 1929)
About artist
(1853 - 1929)
Warsztatu malarskiego uczył go ojciec - Jacek. Studiował filozofię, architekturę i agronomię w Wiedniu w latach I wojny światowej. Od 1917 r. do 1939 r. mieszkał w Zakopanem (wspomnienia z tego okresu opisał w książce "Pępek świata"). Był członkiem Towarzystwa Sztuka Podhalańska, a od 1929 r. Stowarzyszenia "Rytm". Stworzył własny styl odrealnionych, rozległych pejzaży. Malował najchętniej techniką akwareli, która pozwala na szybkie notowanie pomysłów malarskich. Losy wojenne rzuciły go do Ameryki, a w 1942 r. mieszkał na stałe w Montrealu. Odbył wiele podróży po kontynencie amerykańskim. Malował pejzaże, zwłaszcza ulubione motywy górskie.
Upcoming auctions
No artworks available now.
Currently we don't have any available works. Contact us, and we'll let you know as soon as they show up.
Contact us