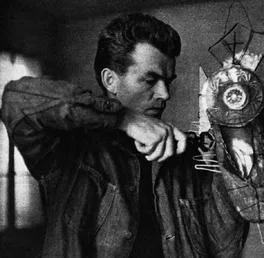 Wladyslaw Hasior
(1928 - 1999)
About artist
(1928 - 1999)
Studiował na Wydziale Rzeźby warszawskiej ASP. W latach 1957-68 pracował jako nauczyciel w Szkole Kenara w Zakopanem. W latach 1970-71 pracował jako scenograf w Teatrze Polskim we Wrocławiu i pedagog tamtejszej PWSSP. Znany przede wszystkim jako twórca monumentalnych rzeźb i łączonych wraz z ich realizacją akcji efemerycznych - Słoneczny rydwan, Płomienne ptaki, Ogniste ptaki, Płonące sztandary. Równolegle ze "Sztandarami" i realizacjami monumentalnymi tworzył kameralne rzeźby. W latach 80. i 90. tworzył "Portrety" w technice assemblage'u i collage'u. Asamblaże tworzył od 1957 roku. Reprezentował Polskę na Biennale w Sao Paulo w 1965 i 1971 roku, Biennale w Wenecji w 1970 roku i wielu innych prestiżowych międzynarodowych wystawach.
Upcoming auctions
No artworks available now.
Currently we don't have any available works. Contact us, and we'll let you know as soon as they show up.
Contact us