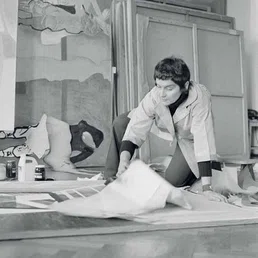 Teresa Pagowska
(1926 - 2007)
About artist
(1926 - 2007)
Skończyła poznańską Państwową Wyższą Szkołę Sztuk Plastycznych - malarstwo i techniki ścienne pod kierunkiem Wacława Taranczewskiego i Eustachego Wasilkowskiego. W okresie studiów była asystentką Jacka Piaseckiego. W latach 1950-64 była pedagogiem w gdańskiej PWSSP, po czym przeniosła się do Warszawy. Po kilkuletniej przerwie kontynuowała pracę pedagogiczną: w latach 1971-73 w łódzkiej PWSSP (aktualnie ASP), a następnie przez wiele lat w akademii warszawskiej. W roku 1988 uzyskała tytuł profesora zwyczajnego. Artystka zawsze zdradzała nieprzeciętną wrażliwość kolorystyczną, rozwiniętą pod wpływem sztuki Piotra Potworowskiego. Skupiła się jednak na postaci ludzkiej. W latach 60. jej malarstwo zdominował motyw silnie zdeformowanej, traktowanej skrótowo, ludzkiej (głównie kobiecej) figury, ukazywanej często w nieoczekiwanych, dynamicznych, często tanecznych, układach. Od tamtej pory postać ludzka jest w tym malarstwie obecna jako pozbawiona rysów indywidualnych zwarta, mocna sylweta. Artystka chętnie operowała gwałtownymi spięciami sumarycznych kształtów oraz kontrastami plam jednolitego koloru. Przez tę umowność odbiera bohaterom jednoznaczny charakter.
Upcoming auctions
No artworks available now.
Currently we don't have any available works. Contact us, and we'll let you know as soon as they show up.
Contact us