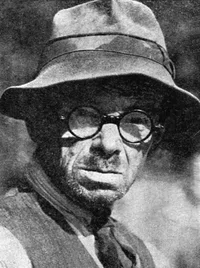 Nikifor Krynicki
(1895 - 1968)
About artist
(1895 - 1968)
Nikifor - związany z Krynicą Łemko z pochodzenia, samouk, na wpół- analfabeta, malarz- amator, jeden z najwybitniejszych twórców "sztuki naiwnej". Wiedza na temat pochodzenia i młodości artysty jest skąpa i niepewna. Zapamiętany jako "od zawsze" fragment folkloru Krynicy. Nie miał żadnego wykształcenia, ułomność psychiczna i fizyczna utrudniała mu kontakt z otoczeniem. Łącznikiem ze światem zewnętrznym było dla niego malowanie. Jego obrazki powstawały na niedużych formatach zdobytego papieru, kartonikach, opakowaniach, kartkach zeszytowych - niekiedy zapisanych po jednej stronie. Rysował ołówkiem, kredką, malował akwarelą otaczający go świat, wzbogacony osobistą fantazją i przeżyciami. Malował przede wszystkim pejzaże architektoniczne trudnych do rozpoznania miasteczek z akcentami w postaci wież kościelnych lub ratuszowych. Fascynował go dworce, wiadukty i pociągi; tworzył także portrety i sceny religijne. Często podpisywał swoje prace niezrozumiałymi bądź częściowo tylko czytelnymi wyrazami zapisanymi nieudolnie wielkimi literami. Przedstawiany przez niego przedmiot obrysowywany był mocnymi konturami, które wypełniał barwnymi plamami. Na niepowtarzalność i świeżość malarstwa Nikifora zwrócił uwagę, jeszcze przed wojną, Jerzy Wolff. W 1947 roku został ponownie "odkryty" zyskując sławę, uznanie i majątek.
Upcoming auctions
No artworks available now.
Currently we don't have any available works. Contact us, and we'll let you know as soon as they show up.
Contact us