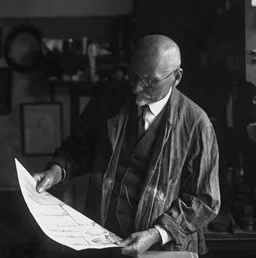 Leon Wyczolkowski
(1852 - 1936)
About artist
(1852 - 1936)
W latach 1869- 1875 studiował w Klasie Rysunkowej w Warszawie m.in. u W. Gersona, A. Kamińskiego, R. Hadziewicza. Naukę kontynuował w Akademii w Monachium, a w latach 1877-1879 uczęszczał do SSP w Krakowie, gdzie pobierał nauki u J. Matejki. W latach 1895-1911 był profesorem ASP w Krakowie, a od 1934 r. prowadził katedrę grafiki w SSP w Warszawie. W 1889 r. odbył podróż do Paryża, gdzie zetknął się z impresjonizmem. Początkowo malował obrazy historyczno - rodzajowe, później realistyczne portrety i modne sceny salonowe. Podczas pobytu na Ukrainie w latach 1883-1893 tworzył głównie sceny przedstawiające rybaków i chłopów, podejmując w nich problematykę światła i koloru. Po 1895 r. uległ na krótko wpływowi symbolizmu, po czym zwrócił się w kierunku swoistego koloryzmu. Posługiwał się głównie pastelem, akwarelą i tuszem. Malował nastrojowe pejzaże, głównie tatrzańskie, zabytki architektoniczne, martwe natury, zwłaszcza kwiaty. Tworzył też zróżnicowane stylistycznie, wnikliwe portrety. Od ok. 1918 r. zajął się grafiką (techniki trawione, autolitografia). Jego twórczość jest zaliczana do najwybitniejszych zjawisk artystycznych w sztuce polskiej przełomu XIX/XX w.
Upcoming auctions
No artworks available now.
Currently we don't have any available works. Contact us, and we'll let you know as soon as they show up.
Contact us