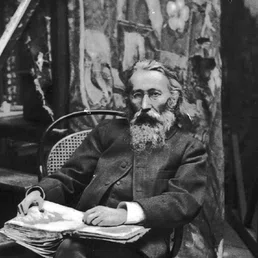 Jan Matejko
(1838 - 1893)
About artist
(1838 - 1893)
W latach 1852- 1858 studiował w krakowskiej Szkole Sztuk Pięknych u W. K. Stattlera i W. Łuszczkiewicza. Naukę kontynuował w Monachium w latach 1859- 1860 u H. Anschütza oraz w Akademii w Wiedniu u C. Rubena (1860r.). Od 1873 r. był dyrektorem SSP w Krakowie, a w 1887 r. został docentem h.c. Uniwersytetu Jagiellońskiego. Otrzymał wiele nagród i wyróżnień, m.in. złoty medal w Paryżu w 1865 r. i złoty medal I klasy na Wystawie Światowej w Wiedniu w 1867 r. Odbył wiele podróży, m.in. do Paryża, Wiednia, Turcji, Węgier i Włoch. Od połowy lat 50-tych tworzył głównie obrazy z dziejów ojczystych, poprzedzone wnikliwymi studiami historycznymi i zabytkoznawczymi. Jego obrazy to w większości ogromnych rozmiarów kompozycje o wielkiej sile wyrazu, które cechuje połączenie realistycznej obserwacji i dokumentalnej ścisłości szczegółów z dynamicznymi układami kompozycyjnymi całości obrazu. Jego obrazy przesycone głębokim patriotyzmem, ukazały polskiemu społeczeństwu wizje przeszłości i odegrały dużą rolę w umocnieniu świadomości narodowej. Matejko wykonał jedno z największych dzieł polskiego malarstwa monumentalnego- polichromię w Kościele Mariackim w Krakowie oraz cykl rysunków "Poczet królów i książąt polskich".
Upcoming auctions
No artworks available now.
Currently we don't have any available works. Contact us, and we'll let you know as soon as they show up.
Contact us