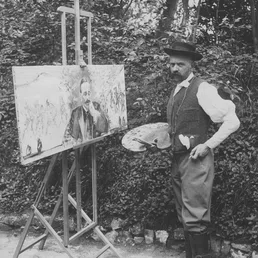 Jacek Malczewski
(1854 - 1929)
About artist
(1854 - 1929)
W latach 1872-75 i 1877-79 studiował w krakowskiej Szkole Sztuk Pięknych, m.in. u Władysława Łuszczkiewicza i Jana Matejki oraz w latach 1876-77 u Henri Ernesta Lehmana w Szkole Sztuk Pięknych w Paryżu. Na formację artysty wpłynęły liczne podróże do Paryża, Monachium, Wiednia, Włoch, Grecji czy Turcji. Istotnym źródłem inspiracji Malczewskiego był rodzimy folklor, polska literatura i historia, także tradycja biblijna i mitologiczna. Stale podejmował wątki patriotyczne i mesjanistyczne, egzystencjalne, autobiograficzne oraz dotyczące dylematów artystycznego tworzenia. Uznawany za najwybitniejszego przedstawiciela malarstwa polskiego symbolizmu wsławił się też jako wybitny pedagog. Wykładał malarstwo w krakowskiej Akademii Sztuk Pięknych (1896-1900 i 1910-1921), a w okresie 1912-1914 pełnił funkcję jej rektora. W 1897 roku został członkiem-założycielem Towarzystwa Artystów Polskich "Sztuka". Twórczość Malczewskiego był wielokrotnie prezentowana poza granicami kraju, doceniana i nagradzana, m.in medalami na międzynarodowych wystawach w Monachium (1892), Berlinie (1891) i Paryżu (1900).
Upcoming auctions
No artworks available now.
Currently we don't have any available works. Contact us, and we'll let you know as soon as they show up.
Contact us