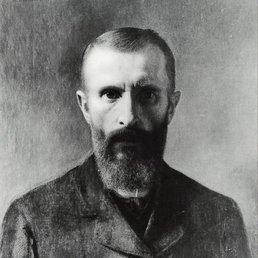 Aleksander Gierymski
(1850 - 1901)
About artist
(1850 - 1901)
W 1867 roku rozpoczął kilkumiesięczne studia artystyczne w warszawskiej Klasie Rysunkowej, najprawdopodobniej pod kierunkiem Rafała Hadziewicza. W 1868 roku dzięki uzyskanym funduszom wyjechał na dalsze studia do Monachium, gdzie był jednym z najważniejszych malarzy polskiej kolonii artystycznej w tym mieście. W latach 1868 – 69 uczył się u Georga Hiltenspergera, Alexandra Strähubera i Hermanna Anschütza. Był także uczniem Karla Piloty'ego (w 1870 lub 1871/72). Studia w akademii ukończył w 1872 roku, otrzymując nagrodę za obraz Scena sądu z 'Kupca weneckiego'. W 1873 roku podróżował z bratem Maksymilianem po Tyrolu i Włoszech (odwiedzili Wenecję, Weronę, Trydent). W latach 1875 – 1879 mieszkał z przerwami w Rzymie. Do kraju powrócił w 1879 roku i zamieszkał w Warszawie. W 1884 roku wyjechał do Wiednia, później do Włoch (w 1885 – 87 mieszkał ponownie w Rzymie), Monachium (1888 – 90) i po raz pierwszy do Paryża (1890 – 93). Kolejne lata spędził w Paryżu i we Włoszech – w Weronie i Rzymie. Wystawiał głównie poza granicami kraju: w Wiedniu, Monachium, Berlinie i wielu innych miastach Europy. Malował sceny kostiumowe inspirowane malarstwem XVIII w., pejzaże miejskie – głównie nokturny i widoki architektury, sceny rodzajowe związane z miastem i jego krajobrazami (zwłaszcza w okresie warszawskim w jego twórczości dominuje tematyka związana z życiem w najuboższych nadwiślańskich dzielnicach i egzotyka getta żydowskiego), pejzaże z okolic Monachium i Tyrolu.
Upcoming auctions
No artworks available now.
Currently we don't have any available works. Contact us, and we'll let you know as soon as they show up.
Contact us