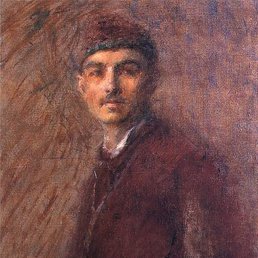 Wladyslaw Podkowinski
(1866 - 1895)
About artist
(1866 - 1895)
Uczył się w Warszawskiej Klasie Rysunkowej (1883-85), a następnie w Akademii Sztuk Pięknych w Petersburgu, m.in. w pracowni batalisty B. P. Willewaldego (w latach 1885-86). W 1889 roku wyjechał wraz z Józefem Pankiewiczem do Paryża, gdzie wielki wpływ na jego malarstwo wywarły doświadczenia impresjonizmu. W późniejszym okresie tworzył również kompozycje symboliczne. Po powrocie mieszkał na stałe w Warszawie. Malował portrety, pejzaże i sceny rodzajowe. Wykonywał też ilustracje do powieści i czasopism, m.in. do "Tygodnika Ilustrowanego". Jest najważniejszym obok Józefa Pankiewicza polskim impresjonistą, a jego twórczość miała ogromny wpływ na polskie malarstwo pejzażowe, zwłaszcza kompozycje i kolorystykę obrazów.
Upcoming auctions
No artworks available now.
Currently we don't have any available works. Contact us, and we'll let you know as soon as they show up.
Contact us