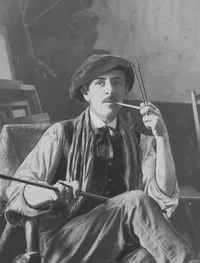 Tadeusz Makowski
(1882 - 1932)
About artist
(1882 - 1932)
Tadeusz Makowski jest jednym z najwybitniejszych artstów polskich 1 połowy XX wieku. Był malarzem, grafikiem i rysownikiem. W latach 1903-08 uczył się w Akademii krakowskiej u Józefa Unierzyskiego, Józefa Mehoffera i Jana Stanisławskiego; jednocześnie studiował filologię na Uniwersytecie Jagiellońskiem. W roku 1908, przez Monachium, wyjechał do Paryża, gdzie zamieszkał na stałe. Stamtąd wyjeżdżał na letnie sezony do Bretanii, Owerni oraz na południe Francji. Odbył też podróż artystyczną do Holandii i Belgii (1921). W Paryżu przyjaźnił się z wieloma znakomitymi malarzami, pisarzami oraz marszandami. Utrzymywał żywe kontakty z artystami polskimi przebywającymi we Francji i był prezesem paryskiego "Towarzystwa Artystów Polskich". Swoje prace wystawiał w kraju - w Krakowie i Warszawie (od 1907) i Lwowie (1910) oraz za granicą: w Paryżu, Barcelonie, Wiedniu, Budapeszcie i Amsterdamie. Malował kompozycje figuralne, pejzaże, martwe natury i portrety, zwłaszcza dzieci. Eksperymentując z malarstwem kubistycznym wypracował swój indywidualny styl. Formą, kolorem i światłem, a także pewną deformacją budował pełne liryzmu choć czasami nie pozbawione pewnej ironii czy drwiny kompozycje malarskie.
Upcoming auctions
No artworks available now.
Currently we don't have any available works. Contact us, and we'll let you know as soon as they show up.
Contact us