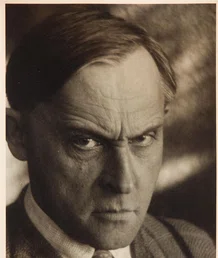 Stanislaw Ignacy Witkiewicz (Witkacy)
(1885 - 1939)
About artist
(1885 - 1939)
Jego ojcem był znany krytyk, malarz i pisarz, twórca tzw. "stylu zakopiańskiego" w architekturze Stanisław Witkiewicz. W latach 1905 - 1910 studiował niesystematycznie w krakowskiej Akademii Sztuk Pięknych u Józefa Mehoffera oraz u Władysława Ślewińskiego w Poroninie. Podróżował do Włoch, Francji i Niemiec. W roku 1914 uczestniczył w etnograficznej ekspedycji Bronisława Malinowskiego do Australii, skąd na wiadomość o wybuchu I wojny światowej wrócił do Europy. Wczesna twórczość malarska pozostawała pod znakiem Młodej Polski i wpływem P. Gauguina i Wł. Ślewińskiego. Później doszedł do swoistego ekspresjonizmu. Z czasem w wyniku teoretycznych przemyśleń na temat formy zrezygnował z twórczości malarskiej. Założył jednoosobową "Firmę Portretową" i ograniczył się do zarobkowego wykonywania pastelowych portretów, tworzonych niejednokrotnie pod wypływem używek pozwalających na eksperymentowanie z formą . Stanisław Ignacy Witkiewicz napisał 4 powieści, ponad 40 dramatów, liczne artykuły i eseje dotyczące malarstwa, literatury, teatru i filozofii. W okresie dwudziestolecia międzywojennego mieszkał głównie w Zakopanem. Po wybuchu II wojny światowej uciekł przed Niemcami na kresy wschodnie, gdzie we wsi Jeziory na Polesiu 18 września 1939 roku popełnił samobójstwo.
Upcoming auctions
No artworks available now.
Currently we don't have any available works. Contact us, and we'll let you know as soon as they show up.
Contact us