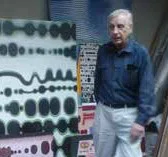 Jan Tarasin
(1926 - 2009)
About artist
(1926 - 2009)
W 1951 ukończył malarstwo w krakowskiej ASP w pracowni prof. Zbigniewa Pronaszki. Jako student zadebiutował na I Wystawie Sztuki Nowoczesnej w Krakowie w latach 1948-49. Od 1962 jest członkiem Grupy Krakowskiej. W 1974 podjął pracę pedagogiczną w warszawskiej ASP, a w latach 1987-90 był rektor tej uczelni. W 1984 otrzymał Nagrodę im. Jana Cybisa. W 1995 w warszawskiej Zachęcie miała miejsce monograficzna wystawa prac artysty.
Upcoming auctions
No artworks available now.
Currently we don't have any available works. Contact us, and we'll let you know as soon as they show up.
Contact us