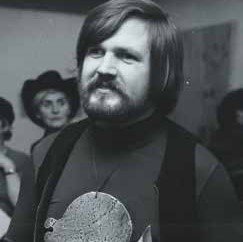 Jan Dobkowski (b. 1942)
About artist
(b. 1942)
Malarz i grafik. W latach 1962-68 odbył studia w ASP w Warszawie na Wydziale Malarstwa w pracowniach prof. Juliusza Studnickiego i prof. Jana Cybisa. Był współzałożycielem (wraz z Jerzym Jurrym Zielińskim) grupy "Neo-Neo" (1967-1970). Ilustrator wierszy Guillaume'a Apollinaire'a "Zwierzyniec albo świta Orfeusza" (1963). W roku 1968 Dobkowski wziął udział w wystawie "Secesja-Secesja?" w Galerii Współczesnej w Warszawie, która wywołała wielkie zainteresowanie w mediach i wśród krytyków. Po sukcesie na tej wystawie jego obrazy znalazły się na prestiżowej prezentacji "Polskie malarstwo współczesne. Źródła i poszukiwania" w Paryżu. Wkrótce też Guggenheim Museum w Nowym Jorku zakupiło do swoich zbiorów jego płótno "Podwójna dziewczyna" (1968), pierwszy czerwono-zielony obraz Dobkowskiego. Cały cykl obrazów w takiej kolorystyce powstał rok później, namalowany w ujednoliconym formacie 200 x 150 cm. Na zielonych tłach pojawiały się w różnych sytuacjach czerwone sylwety męskich i kobiecych postaci, te ostatnie najczęściej o bujnych kształtach, karykaturalnie rozrośniętych. Kobiety o wielu piersiach o formach jabłek czy gruszek miały w sobie potężny ładunek erotyzmu i zmysłowości. Niektóre formy na obrazach Dobkowskiego przemieniały się płynnie w inne, pierś kobieca stawała się dorodnym jabłkiem, serce plemnikiem, a kręgosłup i żebra organiczną, wiotką strukturą. Zieleń sugerowała naturę, żywiołową witalność, życie. Obrazy te stały się punktem wyjścia do wielu działań przestrzennych i następnych serii obrazów. W okresie stanu wojennego uczestniczył w akcjach kultury niezależnej. W 1972 roku był stypendystą Fundacji Kościuszkowskiej w Nowym Jorku. Laureat nagród, m.in.: Nagrody Krytyki im. Cypriana Kamila Norwida (1978); Nagrody im. Jana Cybisa (1994) za całokształt twórczości.
Upcoming auctions
No artworks available now.
Currently we don't have any available works. Contact us, and we'll let you know as soon as they show up.
Contact us