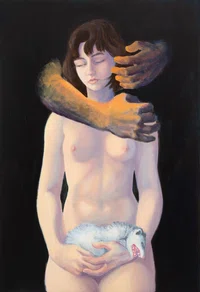 Helena Stiasny
(b. 1997)
About artist
(b. 1997)
Absolwentka Akademii Sztuk Pieknych w Warszawie, dyplom magisterski z wyróżnieniem w 2020 r. Zajmuje się malarstwem, fotografią i ilustracją. Nagrodzona za malarstwo we Włoszech w konkursie VeniceLands ArtPrize 2019. Jej indywidualną wystawę gościły Fundacja Rodziny Staraków w Warszawie (2022) i Galeria Oranżeria w Radzyniu Podlaskim (2019). Jej prace są obecnie eksponowane w Mazowieckim Centrum Sztuki Współczesnej "Elektrownia" w Radomiu (Woman Art Power 2022). Prace pokazywała na wielu wystawach zbiorowych w kraju oraz zagranicą m.in. w Londynie, Berlinie, kirgiskim Biszkeku czy włoskim Ponzano Veneto. Jej prace znajdują się w wielu kolekcjach prywatnych, a także w kolekcji mBanku "m jak malarstwo". Pod pseudonimem Ala Bankroft autorka ilustracji do nagradzanej i przetłumaczonej na 6 języków książki "Widziałem pięknego dzięcioła" (Wydawnictwo Dwie Siostry). Książka otrzymała m.in. wyróżnienie Opera Prima (przyznawane za debiut) podczas Międzynarodowych Targów Książki Bologna Ragazzi 2020 oraz nagrodę specjalną jury Premio Andersen 2022 - najważniejszą włoską nagrodę w świecie książek dla dzieci.
Available objects
No artworks available now.
Currently we don't have any available works. Contact us, and we'll let you know as soon as they show up.
Contact us