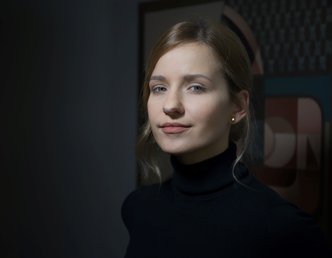 Anna Zalewska
(b. 1985)
About artist
(b. 1985)
Od początku fascynowała ją szeroko pojęta sztuka. Aby rozwijać swoje zainteresowania podjęła naukę w Liceum Sztuk Plastycznych w Poznaniu, ale tak naprawdę świadomie i z pełnym zaangażowaniem malarstwo pojawiło się w jej życiu podczas studiów inżynierskich. Dzięki ciągłemu poszukiwaniu nowych inspiracji, nabrało wyrazistości, zdecydowania w poszukiwaniu doskonałej formy oraz pewnego rodzaju szorstkości. Wypracowana umiejętność łączenia dwóch, pozornie bardzo odległych płaszczyzn, zaowocowała oryginalnym i mocno wyróżniającym się efektem artystycznym. Sam proces tworzenia kolejnych prac ulega nieustannym przekształceniom. Uciekając od rutyny i powtarzalności stara się z każdą nową pracą udoskonalać warsztat, szukać nowych technik i rozwiązań malarskich, a także eksperymentować z kolorystyką. W jej malarstwie dostrzec można silną koncentrację na formie ludzkiego ciała oraz odrzucenie reguł perspektywy. Mnogość tematów spaja w całość charakterystyczny styl: silna geometryzacja, wyraźne barwy, ostry kontur i jasno sprecyzowany temat. Każdy obraz zamknięty jest na unikalnej płaszczyźnie, ukierunkowanej przeważnie na jedną emocję, która pozwala stworzyć go tak, aby żył. Wystawy: wystawa zbiorowa 'Sztuka Teraz' Muzeum Narodowe w Krakowie 2018; wystawa na Targach Sztuki ARTEHOS 2017 Barcelona, Hiszpania 2017; wystawa indywidualna 'Rzeczywistości Abstrakcje' Galeria NEXT Bydgoszcz, 2017; wystawa zbiorowa 'Jasiński & Friends IV' Amaristo, Teatr Narodowy, Warszawa, 2015; wystawa zbiorowa 'VariArt' Zamek Międzylesie, 2014; wystawa zbiorowa 'Nie ma dzieci-są ludzie' Warszawa, 2012.
Upcoming auctions
No artworks available now.
Currently we don't have any available works. Contact us, and we'll let you know as soon as they show up.
Contact us