Wlastimil Hofman - Artist with Polish Soul
Wlastimil Hofman was born on April 27th in Prague (in the suburbs of Karlino) into a Polish-Czech family. The artist's family moved to Krakow for unknown reasons in 1889. Although Hofman is undoubtedly counted today among the most important artists of the Young Poland period and perceived as a continuator of the symbolist movement in painting, occupying an important place in both Polish and European modernism traditions, as well as a spiritual and artistic heir of Jacek Malczewski, the artist was not always appreciated and even included among Polish painters.
Despite the fact that Hofman is now clearly defined in the history of art as a Polish painter, his national affiliation was often a source of internal dilemmas for him. Especially at the beginning of his stay in Krakow and his studies at the Academy of Fine Arts, he was plagued by a constant sense of alienation. In his diary entry from December 1918, recalling his school years, he wrote, "You still don't know who I am." (Wlastmil Hofman, Diary, 5 XII 1918, quoted after: Elżbieta Wolniewicz-Mierzwińska, Wlastimil Hofman – twórczość do roku, [in:] "Dzieła czy kicze", ed. Elżbieta Grabska i Tadeusz Jaroszewski, Warsaw 1981, p. 460). One of the reasons why Hofman had to fight for recognition and respect from his fellow students at the university was precisely his origin.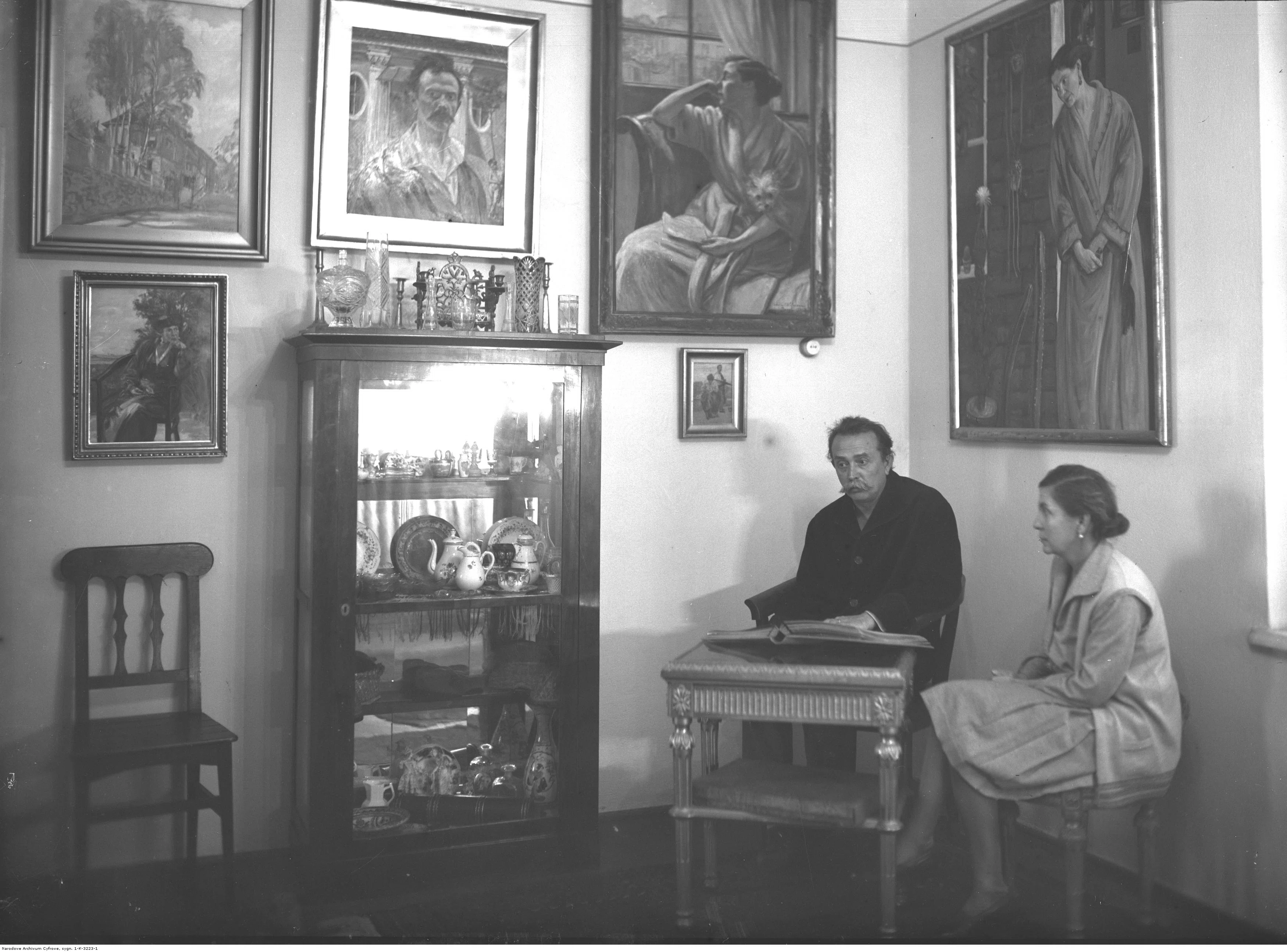 Over the years, the phrase "I am Czech" caused him more and more trouble. At the beginning of his career, he liked to refer to himself as a Czech with a "Polish" tendency towards lyricism, which he believed was an outstanding Polish quality in painting. On the occasion of his exhibitions, foreign critics preferred to write about the "Slavic" character of his works instead of their "Polishness." When he arrived at the École des Beaux-Arts in Paris in 1900, he still identified as a Czech. In 1904, he also joined the Czech Artists' Union, "Menes." However, he also joined Polish artistic groups during this time: the "Group of Four" (quickly renamed the "Group of Five") and in 1908, the "Zero" Group. Gradually, he felt more and more connected to Poland. Finally, in 1909, at the Polish-Czech art exhibition in Hodonin, he presented himself as a Polish artist from the Krakow milieu. The Polish press and critics also liked to emphasize his Polishness. One of the Krakow critics, in a review of the artist's exhibition on the occasion of the 25th anniversary of his work, wrote about Hofman's paintings that "they are the most perfect expression of Polish Christianity in art." (Witold. Bunikiewicz, Wlastimil Hofman (on the occasion of the 25th anniversary of his work). Exhibition in Garliński's Salon, "Bluszcz" 1928, No. 17, p. 12, quoted after: Elżbieta Wolniewicz-Mierzwińska, Wlastimil Hofman – twórczość do roku 1939, [in:] "Dzieła czy kicze", ed. Elżbieta Grabska i Tadeusz Jaroszewski, Warsaw 1981, p. 392). Stanisław Przybyszewski was even tempted to refer to Hofman as "Polish Fra Angelico" (Stanisław Przybyszewski, Collective exhibition of works by W. Hofman in Prague, "Sztuki Piękne" 1924-1925, No. 4, p. 193).
Soon, Czech reviewers also started to associate Hofman with Polish painting. Jiří Karasek, a Czech poet and writer and a personal friend of Hofman, described the artist in the following words in 1918:
"Today we can say with certainty that no painter is more Polish than V. Hofman, a painter who would more outstandingly represent the Polish psyche and delve into Polish mysticism, into what flows from Polish poetry and has its main source in the works of Słowacki, so revered by Hofman and so close to his spirit. […] Hofman is connected to Polish art by that strong mystical current, which Pawlikowski characterizes in his book on Słowacki's mysticism as the war of the element of matter against the element of spirit. Hofman's teacher, Jacek Malczewski, a great, fiery, and prolific spirit, does not depict this struggle in his works: he is entirely earthly."
- Jiří Karasek, Wlastimil Hofman, "Maski" 1918, no. 3.
Despite his strong attachment to Poland and his life being tied to his beloved Krakow, Hofman's national affiliation was a source of problems and misunderstandings, especially after World War I. Upon his return to Krakow from Prague in 1918, his Czech origin and the nationality of his wife, Ada, quickly became an issue during the political dispute over Teschen Silesia. Adela was threatened with deportation and was also accused of espionage. Hofman, on the other hand, faced artistic as well as "commercial" ostracism. As a result, he and his wife left for Paris for several years. Just before leaving, Hofman wrote in his diary:
"Soon, God willing, I will leave you, beloved Poland, maybe for a long time. Your beauty will remain in my soul always and everywhere until my death. I would like to come back when your people will have recovered, beautified, and ennobled."
- Wlastimil Hofman, Diary, quoted in: Wlastimil Hofman's Paintings from Polish and Czech Collections, exhibition catalog, Introduction by Dorota Kudelska, ed. A. Sikora-Firszt, Jelenia Góra 2003, p. 12.

Although Hofman sometimes touched on national-patriotic themes, he most willingly and frequently dealt with the timeless and eternal problems of human existence. Such meaning permeates his works, in which the main themes are both old men pondering the futility of life and belief in divine justice, as well as children and their world. It is often difficult to determine unambiguously what inspired Hofman in creating his paintings-mythology, Slavic legends, or folk tales. It seems that all of them can be found in his works. In his numerous paintings with idyllic-symbolic themes, the type of allegory centered around a simple, quiet life that serves as an escape from brutal reality into a land of childhood memories and fairy-tale characters is often repeated. However, most of his compositions are set in the rural surroundings of the Krakow region from a firsthand perspective. Perhaps that is why his works seem so close and understandable to today's audience.