The art of Marlena Szewczyk
Beginning the new year, the DESA UNICUM's January Auction of Young Art will astound you with its rich and varied selection of artworks. The most recent offer includes a painting by Marlena Szewczyk, who creates intriguing, oneiric paintings full of personal symbolism. The artist graduated from the Academy of Fine Arts in Katowice. In June 2022, she obtained her master's degree at the Faculty of Painting under Prof. Ireneusz Walczak. Szewczyk also received a distinction in the Young Art Compass 2022.
She creates her paintings using previously made collages, which serve as inspiration, as well as full-size works. The topics that the artist addresses most frequently are the human and its body, in particular the aspects of mortality, dreams, and interpersonal relations. The collage form of the paintings emphasizes the most important elements of the composition. The author gives them a fresh, more profound meaning. Humor and absurdity are important elements in her art. Szewczyk works with photography as well, showing reality from a unique perspective that is frequently upside down.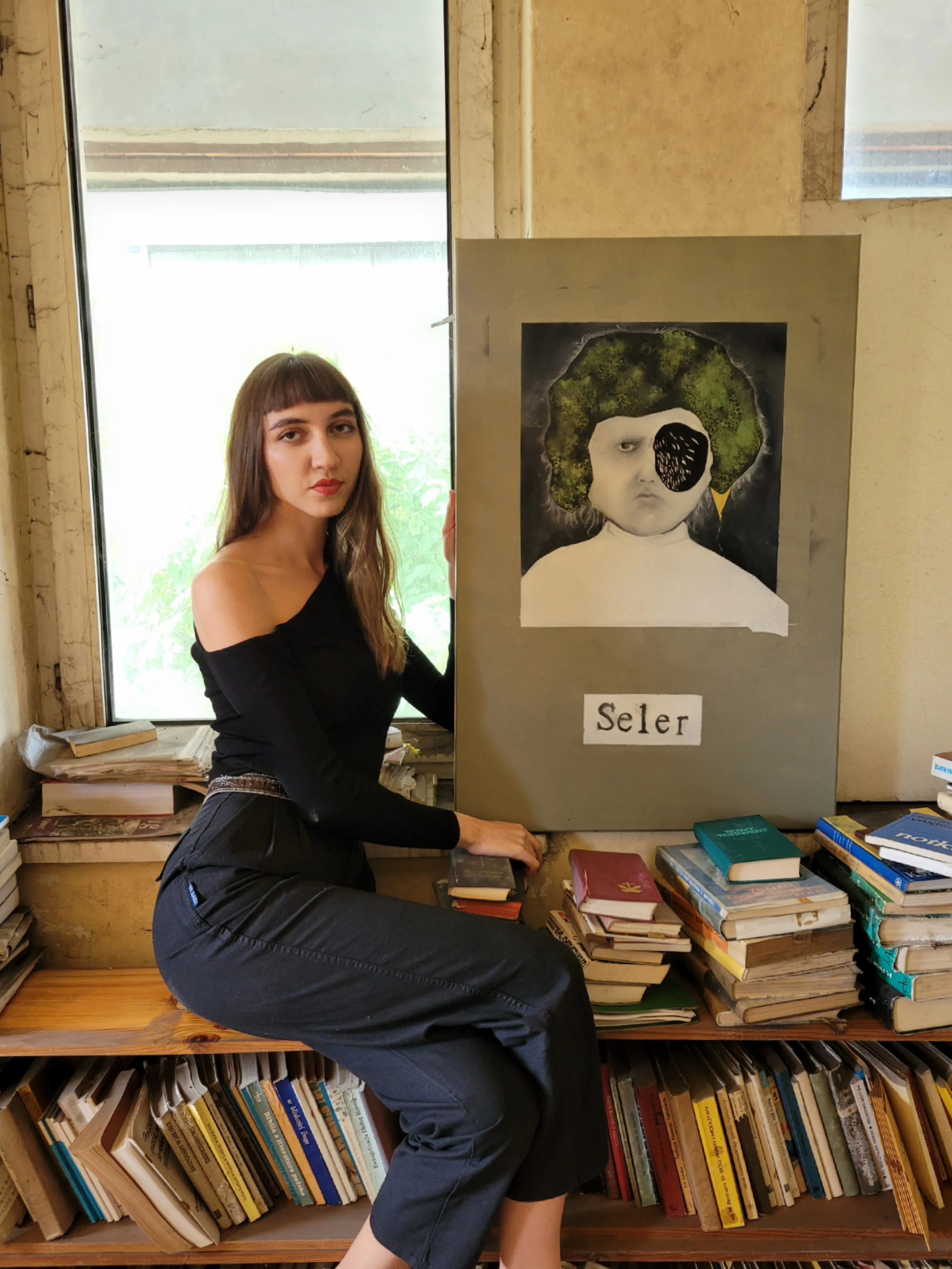 In order to better familiarize our collectors with the artist and her work, we asked her a few questions at our previous meeting:
Paulina Brol: Where do you find inspiration?
Marlena Szewczyk: My head and everything that occurs in it serve as the primary source of inspiration for the works. When it comes to outside sources, I often use outdated, frequently forgotten books, magazines, and prints that are given a new life, often with a completely new meaning. 
PB: When did you start creating?
MS: I began creating in 2015, just before I began my art studies, so it's been about seven years.
PB: Have you always known that you will be an artist?
MS: The idea of becoming an artist came up quite spontaneously. I made the decision to move in that direction as soon as it occurred without giving it much thought.
PB: Please tell us a few words about your education and the exhibitions you have participated in.
MS: I received a master's degree in painting from the Katowice Academy of Fine Arts in 2022. I participated in the following exhibitions: "Migracje" - Exhibition of Diplomas from the Faculty of Arts in Katowice, June 2022; Exhibition for the Fifth Edition of the Leon Wyczółkowski National Painting Competition in Bydgoszcz, November 2022; "O kapusty kiszeniu" - individual exhibition, the Art Hub Rydzowa Gallery, November 2022; Exhibition for the Competition of the 47th Polish Art Biennale, Winter Salon, January 2022. 
PB: Please say a few words about your technique and the process of creation.
MS: Along with painting with oil paints, I also make collages, which frequently serve as inspiration for my paintings later on. I use canvases of various sizes, depending on my needs and vision.
PB: What are your biggest artistic dreams?
MS: I want to establish myself as a well-known artist whose works inspire thought and elicit strong feelings.
PB: Which male/female artist is your biggest inspiration?
MS: Frida Kahlo is the female artist who has had the biggest impact on how I view art.
We invite you to participate in the pre-auction using the DESA Unicum mobile application and to see the Marlena Szewczyk painting "Untitled" in person at our headquarters. We also invite you to participate in the auction in person and through the broadcast on the website. See you at 7 p.m. CET on Tuesday, January 10th.