Refined Eroticism by Kazimierz Władysław Wasilkowski
Aside from historical scenes, depictions and images of women were one of the most prevalent and significant painting themes in the second half of the 19th century. They were, however, presented in various manners. Women posed as religious, mythological, historical, as well as contemporary characters. 
At the turn of the century, the so-called female "heads" were especially popular and of great interest, with Franciszek Żmurko being their unmatched master. These pictures of women were defiant, almost lewd for the time, with most of the models posing partially nude. However, it was not only Żmurko who was keen on portraying the "heads", as well as women's breasts. Teodor Axentowicz, Wilhelm Kotarbiski, and Kazimierz W. Wasilkowski created depictions of women as well, frequently giving them titles that were intended to give them psychological depth, e.g., "Question," "Deliberation," or "Spring." These titles, of course, were intended to allude to quasi-poetic associations, giving these pictures a more profound meaning. Naturally, critics and public opinion did not find anything offensive in these pretty erotic images.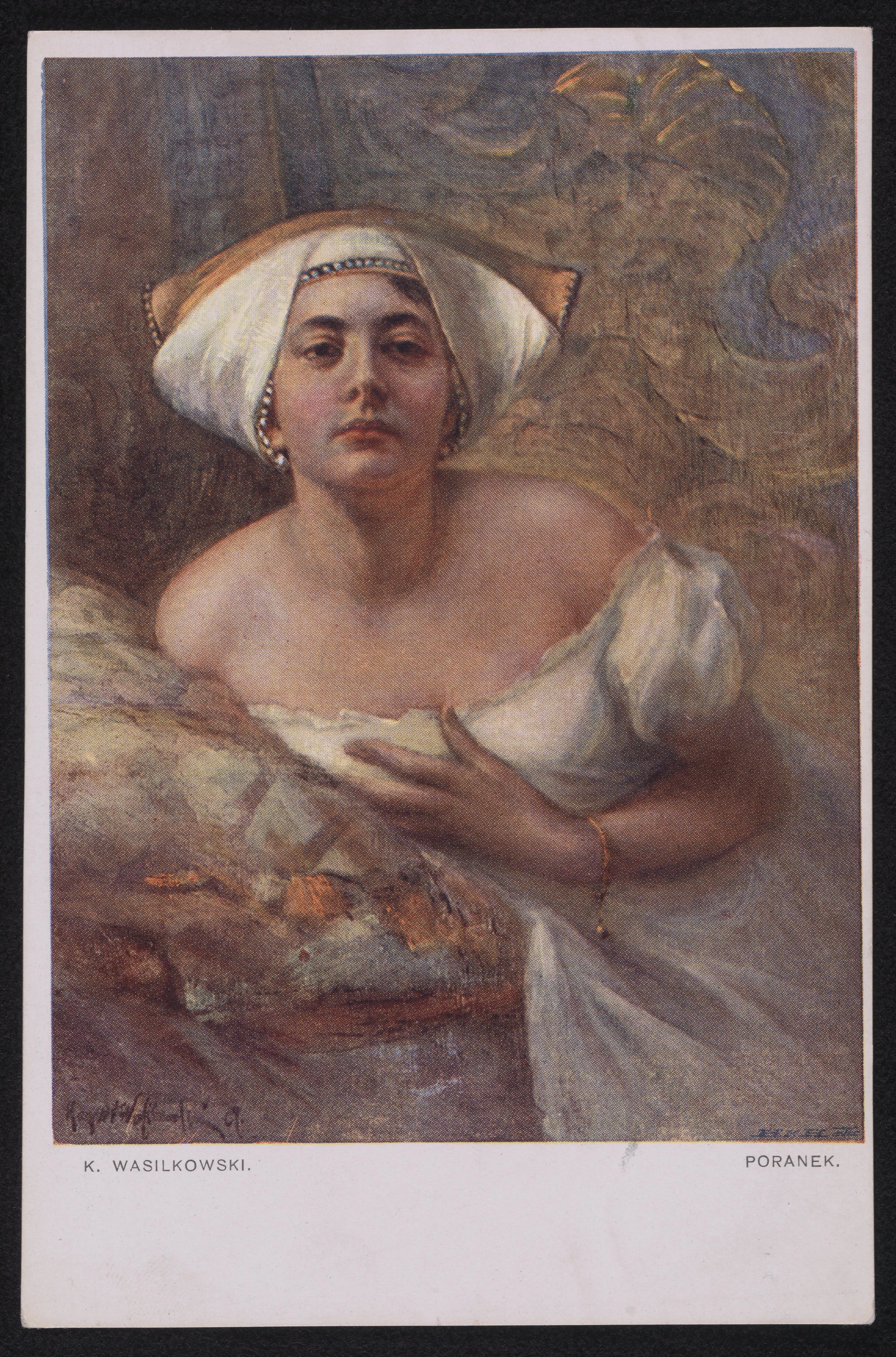 Women could pose as historical figures, becoming goddesses, hetaeras, Renaissance ladies, or earls. The costume, which was to emphasize the woman's personality, did not refer only to the historical theme. It was frequently meant to draw attention to the model's sensuality and passionate nature. During that period, different symbols of femininity were used in the depictions, with the artist painting half-naked Gypsies, odalisques, Arabic women, as well as contemporary ladies.

Art Nouveau was particularly eager to feature images of women. The artists associated with this trend subjectified women, approaching them with the utmost respect and, at the same time, objectifying them-replicating schematic and shallow representations. The fact that this phenomenon affected such a broad range of fine and applied arts and was present in almost all fields contributed to its complicated nature. Paintings by Art Nouveau artists featured seductive and alluring women. Their appealing, sensual, frequently stylized bodies were meant to stimulate the imagination of collectors.
 
Our offer includes such a painting, "Morning". This small composition depicts a young woman in a caul against an Art Nouveau patterned background, which fits into the characteristic decorativeness of paintings from that period. The model wears a nightgown and lies in an elegant interior, which emphasizes her soft shoulders and neckline. By creating this idealized and sentimental depiction of a young woman, Wasilewski gave subtlety to the female motif, skillfully balancing between Academism and Art Nouveau. 
A Warsaw critic reviewed one of the artist's exhibitions, saying:
"K. Wasilkowski was keen on using allegories or symbols in his paintings in such a manner that the subject was only an excuse to present female bodies in some new way. K. Wasilkowski's painting "Lust" gained fame at the time and was widely reproduced and distributed in prints. Female bodies take the foreground in the author's compositions. They are surrounded by accessories explaining the titles of the works, but in fact, the artist painted proper nudes depicting soft, delicate women that had nothing to do with the symbolic aspect of the image " - 
- Bunkiewicz W., Wystawa Wasilkowskich, in: Kurier Warszawski, 1935, no. 288, p. 19.