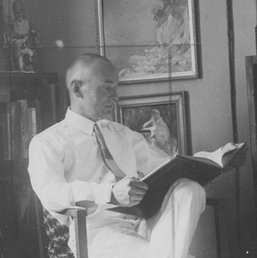 Marian Mokwa (1889 - 1987)
About artist
(1889 - 1987)
Studiował w ASP w Norymberdze i w Berlinie oraz w Akademii w Monachium. Odbył wiele podróży po Europie. W latach 1911 - 15 przebywał w Istambule - stąd wyjeżdżał w podróże do Jerozolimy, Persji, Egiptu, Etiopii, Indii, Mongolii, był na Kaukazie i w Tybecie. W 1918 r. zamieszkał na stałe w Sopocie. Prowadził bardzo aktywne życie artystyczne, miał wiele wystaw w kraju i za granicą. Ufundował i zorganizował w 1934 r. w Gdyni galerię malarstwa marynistycznego - Galerię Morską. Zgromadzony przez artystę zbiór jego obrazów - ponad 500 prac - uległ zniszczeniu w 1939 r. Własnym sumptem wydawał pismo artystyczno - literackie "Fale". W 1959 r .jako jedyny Polak wziął udział w wystawie malarstwa marynistycznego w Royal Society oraz Society of British Marina Painters. Cały swój wielki talent poświęcił malarstwu marynistycznemu- w młodości złożył śluby służby artystycznej polskiemu morzu.
Upcoming auctions
No artworks available now.
Currently we don't have any available works. Contact us, and we'll let you know as soon as they show up.
Contact us