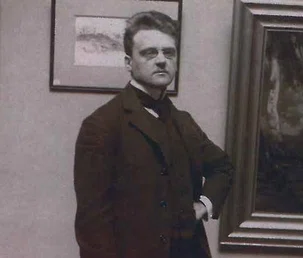 Jozef Pankiewicz
(1866 - 1940)
About artist
(1866 - 1940)
W latach 1884 - 85 uczył się w warszawskiej Klasie Rysunkowej pod kierunkiem Wojciecha Gersona i Aleksandra Kamińskiego, następnie wraz z Władysławem Podkowińskim wyjechał do Petersburga, aby w latach 1885-86 przebywać na stypendium w tamtejszej Akademii Sztuk Pięknych. W 1889 obaj artyści udali się do Paryża; tam jego obraz "Targ na jarzyny na placu za żelazną bramą" (1888 r.) został nagrodzony srebrnym medalem na Wystawie Powszechnej. Zapoznawszy się z pracami impresjonistów po powrocie do Warszawy w 1890 roku, starał się przenieść na rodzimy grunt francuskie trendy malarskie. Nawiązujący do impresjonizmu "Targ na kwiaty przed kościołem Św. Magdaleny w Paryżu" (1890 r.) spotkał się z nieprzychylnym odbiorem polskiej krytyki i publiczności, która doradzała malarzowi wizytę u okulisty. W latach następnych twórczość artysty pozostawał pod wpływem symbolizmu - tworzył nastrojowe nokturny o ciemnym, niemal monochromatycznym kolorycie: Rynek Starego Miasta w Warszawie nocą (1892) Dorożka nocą (1896), Łabędzie w ogrodzie Saskim (1896) Park w Duboju (1897). Inspirowany m.in. twórczością Jamesa Whistlera stworzy cykl nastrojowych portretów m.in. Portret Dziewczynki w czerwonej sukni (1897), Portret Pani Oderfeldowej z córką (1897, nagrodzony na Wystawie Powszechnej w Paryżu złotym medalem). W 1897 roku został członkiem krakowskiego Towarzystwa Artystów Polskich "Sztuka". W latach 1897-1906 podróżował po zachodniej Europie zwiedzając Holandię, Belgię, Włochy, Anglię, Niemcy i Francję. Kolejne wakacyjne wizyty we Francji - od 1908 roku, kiedy nawiązał przyjaźń między innymi z Pierrem Bonnardem i Felixem Fénéonem - zaowocowały szeregiem obrazów i akwafort przedstawiających widoki Concarneaux, St. Valery en Caux, Collioure, Saint-Tropez, Vernon i Giverny. Prezentowany obraz pochodzi z tego okresu twórczości artysty. W roku 1906 został profesorem ASP w Krakowie. Zaświadcza o tym m.in. seria martwych natur w tym najznakomitsza Martwa natura z owocami i nożem (1909). Wojenne lata 1914-19 spędził w Hiszpanii, gdzie zaprzyjaźnił się z Robertem Delaunayem, któremu zawdzięcza zmianę stylu. Płótna 'okresu hiszpańskiego' cechuje geometryzacja (wpływ kubizmu) oraz intensywność płasko kładzionych barw - wpływ fowizmu. W latach 20. zainicjował nurt polskiego koloryzmu nawiązujący do twórczości francuskich postimpresjonistów. Jako pedagog patronował grupie malarzy i grafików skupionych w Komitecie Paryskim zwanych potocznie kapistami. W jej skład wchodzili m.in. Jan Cybis, Artur Nacht-Samborski, Józef Czapski, Zygmunt Waliszewski i Piotr Potworowski. Od 1923 roku został ponownie profesorem ASP w Krakowie, a od 1925 roku kierował filią tej uczelni w Paryżu. Lata powojenne przynoszą kolejną zmianę stylu Pankiewicza. Stopniowo rezygnował z czystego, intensywnego, dekoracyjnego koloru na rzecz malarstwa walorowego, będącego obiektywną wizją rzeczywistość. Częstym tematem powojennych prac malarza są "pejzaże z puszystymi koronami drzew" okolic Sanary, Cassis i La Ciôtat.
Upcoming auctions
No artworks available now.
Currently we don't have any available works. Contact us, and we'll let you know as soon as they show up.
Contact us