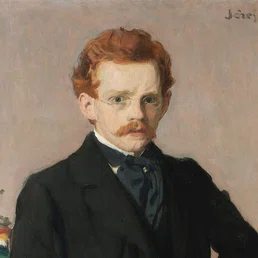 Jozef Mehoffer
(1869 - 1946)
About artist
(1869 - 1946)
Był malarzem, grafikiem, dekoratorem, scenografem i pedagogiem. Malarstwa uczył się w latach 1887-94 w krakowskiej Szkole Sztuk Pięknych u Władysława Łuszczkiewicza i Jana Matejki, równocześnie studiując prawo na Uniwersytecie Jagiellońskim. Kontynuował naukę w paryskich uczelniach: Académie Julian, Académie Colarossi (u P. - J. Blanca, G. Courtoisa) i École des Beaux-Arts (u Léona Bonnata). Po studiach w latach 1894-96 przebywał na zmianę w kraju, Paryżu i w Szwajcarii. Za projekt witraży do kolegiaty we Fryburgu otrzymał I nagrodę na międzynarodowym konkursie (realizacja witraży trwała do roku 1934). W roku 1896 zamieszkał w Krakowie, a od 1900 roku był wykładowcą w Akademii Sztuk Pięknych. Był członkiem i współzałożycielem Towarzystwa Artystów Polskich Sztuka (1897). Malował dekoracyjne portrety, kompozycje symboliczne, pejzaże i martwe natury.
Upcoming auctions
No artworks available now.
Currently we don't have any available works. Contact us, and we'll let you know as soon as they show up.
Contact us