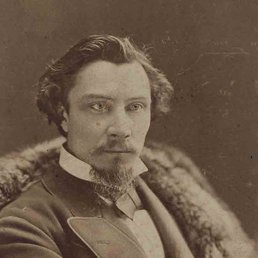 Henryk Siemiradzki
(1843 - 1902)
About artist
(1843 - 1902)
Henryk Siemiradzki - wybitny malarz - akademik - kształcił się w petersburskiej Akademii Sztuk Pięknych. W czasie studiów kilkakrotnie odznaczany był medalami. W 1870 roku wyjechał do Monachium i przez rok kontynuował studia artystyczne w tamtejszej akademii pod kierunkiem Karla Piloty'ego. Od roku 1872 stale mieszkał w Rzymie. Uhonorowany członkostwem wielu europejskich Akademii, wielokrotnie nagradzany medalami na wystawach, odznaczany orderami państwowymi (m.in. francuską Legią Honorową i włoskim orderem Corona d'Italia) cieszył się Siemiradzki wielkim uznaniem i sławą. Z krajem utrzymywał stałe i żywe kontakty - przesyłał obrazy na wystawy, a w roku 1879 podarował Krakowowi swój obraz Świeczniki chrześcijaństwa, dając początek zbiorom Muzeum Narodowego. Namalował kurtyny do teatrów w Krakowie (1896) i we Lwowie (1900; dar artysty dla miasta). Tematów do swych obrazów szukał w starożytności, w historii, życiu i mitach dawnej Grecji i Rzymu.
Upcoming auctions
No artworks available now.
Currently we don't have any available works. Contact us, and we'll let you know as soon as they show up.
Contact us