Comics. City fever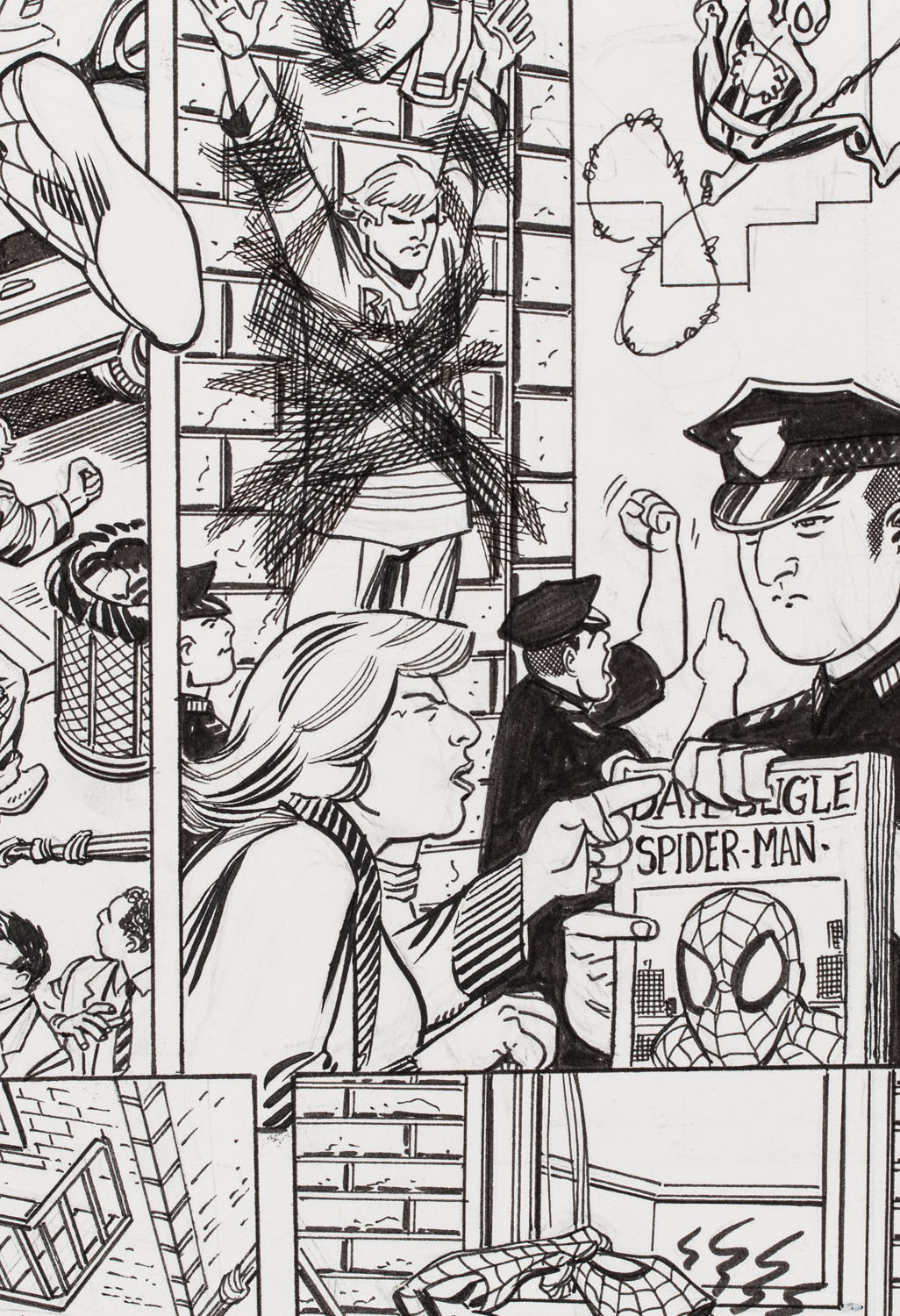 A motif of a city constitutes a classic topos in literature and visual arts. Comic art, combining narrative and representational forms, is developing in the common field of these disciplines. Urban themes appear very often in this artistic genre, not only as a background for the storyline but also as a setting providing a wide range of possibilities. Comic art includes both depictions referring to specific cities, as well as sites that were created from scratch, making projections of hypothetical or futuristic worlds.
Sterling, but also effective drawing prowess, typical of comic style, is noticeable in the Punisher series by Leandro Fernandez. The Argentinean artist has been drawing for the comic book market leaders, Marvel Comics and DC Comics, for over twenty years. The Punisher series is an excellent, action-packed story about a war veteran fighting criminals. The narrative is dynamically framed, and the detailed drawings make the images look very cinematic.
The comic Boys, drawn by Darick Robertson, includes similarly thrilling scenes. This artist also has over twenty years of experience in working with Marvel Comics and DC Comics. He presented his skills by drawing Justice League for DC and went on to work for Marvel where he penciled titles including Wolverine, Spider-Man, and most notably the New Warriors. Robertson is best known as the co-creator and designer of the Eisner Award-winning series titled Transmetropolitan written by Warren Ellis, which was hailed by Wired magazine as "the graphic novel of the decade."
Item 15 in the offer is John Constantine - Hellblazer, the warlock character created by Alan Moore, drawn by Steve Dillon. The creators gave the series a new face, sharp dialogues, and intense action maintained in an amazing style, characteristic of Ennis, combined with dynamic drawings by Dillon, which guarantees you a well-told and drawn story. Due to the great success of Hellblazer, Dillon was able to implement his original project based on a series by Garth Ennis. The Preacher series were awarded the Elsner Prize in 1999.
The American Vampire by Rafael Albuquerque conjures up an apocalyptic vision of the world. The cartoonist from Brazil also collaborated with DC Comics and Marvel Comics for many years. The comic tells the story of Skinner Sweet, a petty criminal who was turned into a vampire at the end of the 19th century, giving rise to a new species resistant to sunlight. Using his supernatural powers, Skinner first spread terror in the Wild West, in Hollywood in the 1920s, and later in Las Vegas.
The works by Polish cartoonist Jacek Kowalski appeared in the Anthology of Polish Comics. Man in a Test Tube, AQQ, and were published by the French publishing house ON-X. They are characterized by a smooth, dynamic drawing style, which draws inspiration from the works of Jerzy Wróblewski. Kowalski was the finalist in the first competition organized by the Świat Komiksu publishing house.
Jakub Babczyński's works for the "Ballad of Eulalia", written by Jerzy Szyłak, are related to urban life in a more moral dimension. Babczyński made his debut in Vormkfasa magazine with his comic book "Untitled". He also drew, among others, "City with a View" written by E. Żukowska and "Olimpia from Gdańsk" by Piotr Szulc. His works were published in anthologies and magazines, e.g. "Opowieści tramwajowe" ("Tram Tales"), "Japonia widziana oczyma 20 autorów" ("Japan Seen through the Eyes of Twenty Authors"), "GDAK", "Komiksownia", "Zeszyty Komiksowe" ("Comic Journals").
Joanna Łańcucka touches upon subjects related to current events in her works, which are made with extreme precision and in her own technique. Associated with Przekrój quarterly, Łańcucka, like many other comic book authors in Poland, graduated from the Academy of Fine Arts in Łódź. She creates short comic books and illustrations, mainly for poetry book publishers.
The work by Jacek Frąś "Totalnie nie nostalgia. Memuar" ("Totally not Nostalgic. Memoir") is a really unique collector's item. Awarded in the Polish Comics category in 2017 by the Polish Comics Association, it presents an extraordinary, autobiographical story full of sharp wit, written by Wanda Hagedorn, about patriarchal oppression in the family and society. The comic titled "Kaczka" ("Duck") by Frąś was awarded at the International Comic Book Festival in Angoulême in 2001 with the prestigious PRIX ALPH-ART Jeunes Talents, granted to the best young cartoonist. A year earlier, he was awarded the 2nd prize for the same comic book at the International Comics Festival in Łódź. He published his comic works in Machina, Muza, Gazeta Wyborcza, Polityka, Nie, Laif, DosDedos, AQQ, Stripburger, Warburger, Madburger, Talizman, Czas Komiksu, Dziennik Łódzki, Dziennik Polski, and Świat Komiksu magazines. The artist collaborated with the Kultura Gniewu, Egmont, Zin-Zin Press, and Viking publishing houses. He took part in many collective exhibitions. Works by Jacek Frąś, also the comic "Tragedyja Płocka" ("Calamity of Płock"), are available at the auction for the first time.
Depictions of Polish cities and their inhabitants also occur in the works of Krzysztof Gawronkiewicz, Jerzy Ozga, Kamila Szcześniak, Janek Koza, and, for the first time, Iskra, a drafter associated with Wprost weekly.