Aleksandra Osa
There are many vibrant works by young artists in the upcoming DESA Unicum Young Art Auction. Various intriguing creators, including both established artists and those just breaking into the art market, can be found in our most recent catalog. We especially recommend the works of artists who are becoming more and more popular: Natalia Fundowicz, Arkadiusz Drawc, and Martyna Domozych, as well as well-known artists such as Blubird, Adam Wątor, and Ryszard Rabsztyn. The February auction will also feature a blue composition by Aleksandra Osa. 
She earned her degree in painting in 2015 at the Warsaw Academy of Fine Arts in Professor Krzysztof Wachowiak's studio. Her works have been presented at numerous exhibitions in Poland and abroad. In her painting, the creator makes an artistic interpretation of reality while maintaining the appearance of realism. She draws inspiration from her surroundings, using the subject as a pretext to look for form. The artist currently lives and works in Athens. We'd like to introduce you to her through a discussion about her creativity and artistic experience.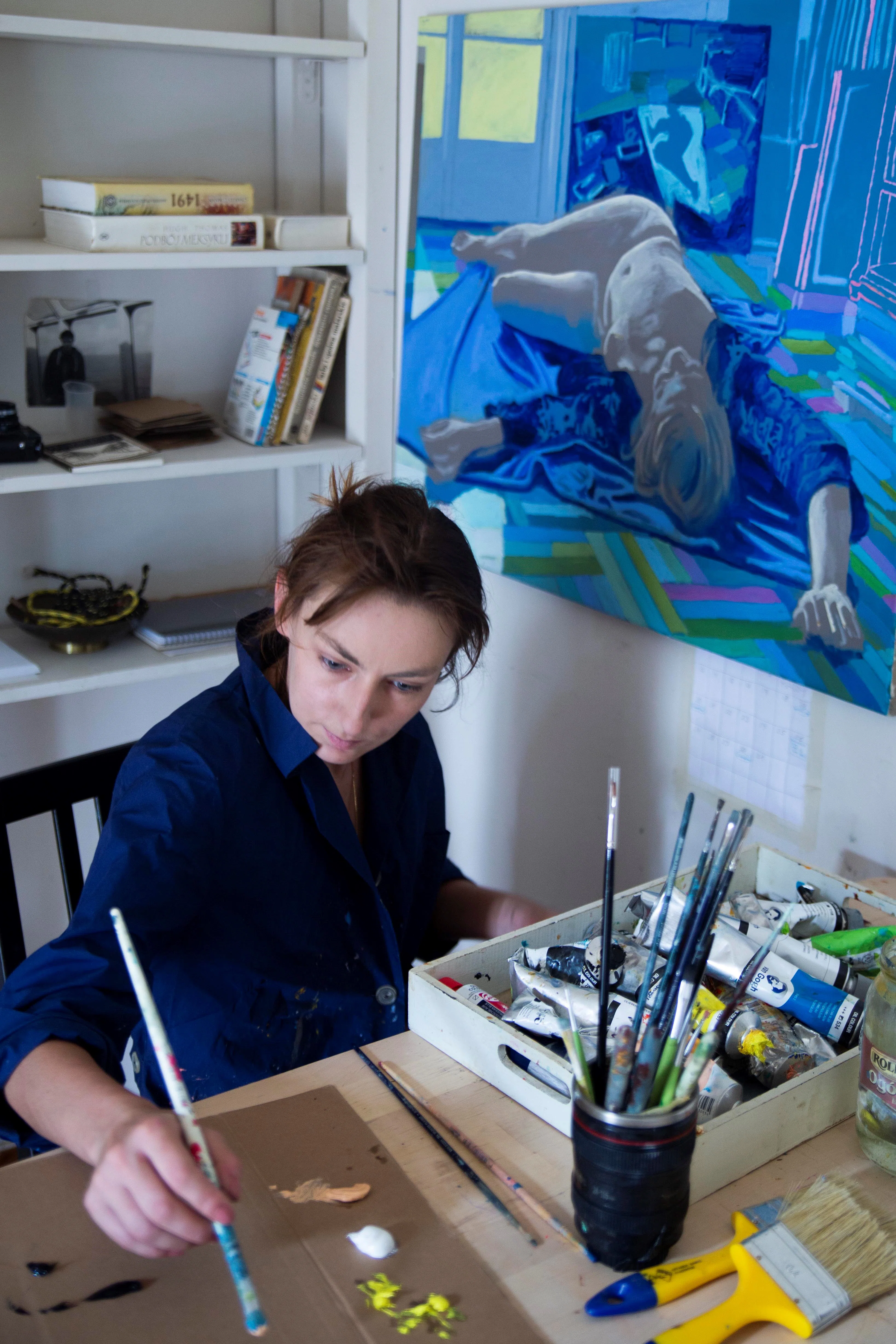 Paulina Brol: Where do you find inspiration?

Aleksandra Osa: I am inspired by my surroundings, what I see on a daily basis, the books I read, the films I watch. Many of my paintings depict maritime themes, the sea, beaches. I have been living in Greece for years and my biggest passion is sailing. However, if I do include people in my paintings, they are typically people I am familiar with.  
PB: When did you start creating?

AO: I've been creating since I can remember. I took my first painting lessons as a six-year-old at a youth club. As a child, I often organized "exhibitions" in my mother's office. My family has always supported me on this path, even though no one in the family is an artist. 
PB: Have you always known that you will be an artist?

AO: Definitely not. Even though I've always painted, my career aspirations were to be either a historian or an archaeologist. I even studied history at the University of Warsaw, but I resigned after a year. To this day, most of the books I read are history books. I often take the titles of my paintings from Latin or Greek. 
PB: Please tell us a few words about your education and the exhibitions you have participated in.

AO: I graduated from the Faculty of Painting at the Academy of Fine Arts in Warsaw in the studio of Prof. Wachowiak. I obtained my diploma in 2015. I took part in exhibitions in Poland, Great Britain, Italy, and Greece.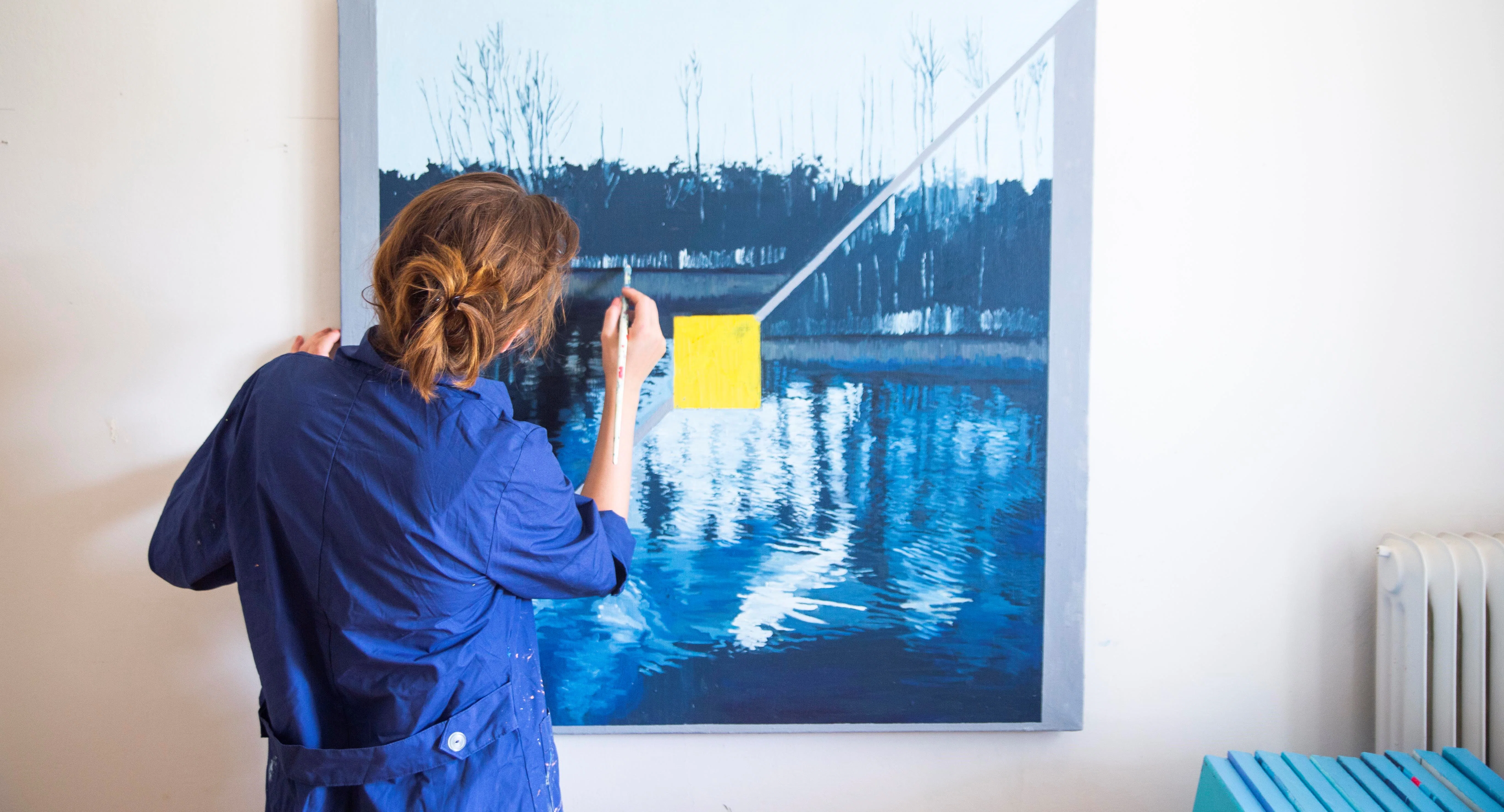 PB: Tell us about your technique and the creation process.
AO: Since my studies, I have paid great attention to the technical quality of my works. I prepare the primer for my paintings myself; I have experimented with "old" techniques. It is important to me that each painting is unique but also technically professional and of high quality. When I paint, I usually work on several paintings at the same time. I like to create series that are fairly consistent. Each painting in the series can be a separate work, but they can also be presented together. 
PB: What are your biggest artistic dreams?
AO: Someday I would like to have the opportunity to create a project that combines traditional painting with some modern, commercial field, e.g., fashion. 
PB: Which male/female artist is your biggest inspiration?
AO: I love David Hockney, Andrew Wyeth, Wilhelm Sasnal, Luc Tuymans, and Andy Warhol.
If you would like to see a work from the series "Waterways no. 3," we invite you to our headquarters in Warsaw at Piękna 1A. You can see the entire selection of the February Young Art Auction from 27 January to 7 February. We encourage you to take part in the bidding via our mobile application and to participate in the auction in person or via broadcast on our website. See you on Monday, February 7th at 7:00 PM CET.