Fifty figures sold for PLN 13.2 mln. The "Crowd III" by Magdalena Abakanowicz has become the most expensive work of art sold on The Polish market
A record was broken at the "Modern and Contemporary Sculpture" auction at DESA Unicum on Thursday, which went down in the history of the Polish art market. The installation "Crowd III" from 1989 by Magdalena Abakanowicz, consisting of fifty objects, was sold for PLN 13.2 million, becoming the most expensive work of art sold in Poland. It is the first artwork that reached the amount of over PLN 10 million. The sculpture is also the most expensive composition by this artist in the world. The "Crowd III" together with other works by Abakanowicz, as well as "Kain" by Mirosław Bałka and "Torso" by Igor Mitoraj, contributed to the total turnover of over PLN 20 million from the auction. It was the most successful sculpture auction in the history of the Polish art market in terms of turnover.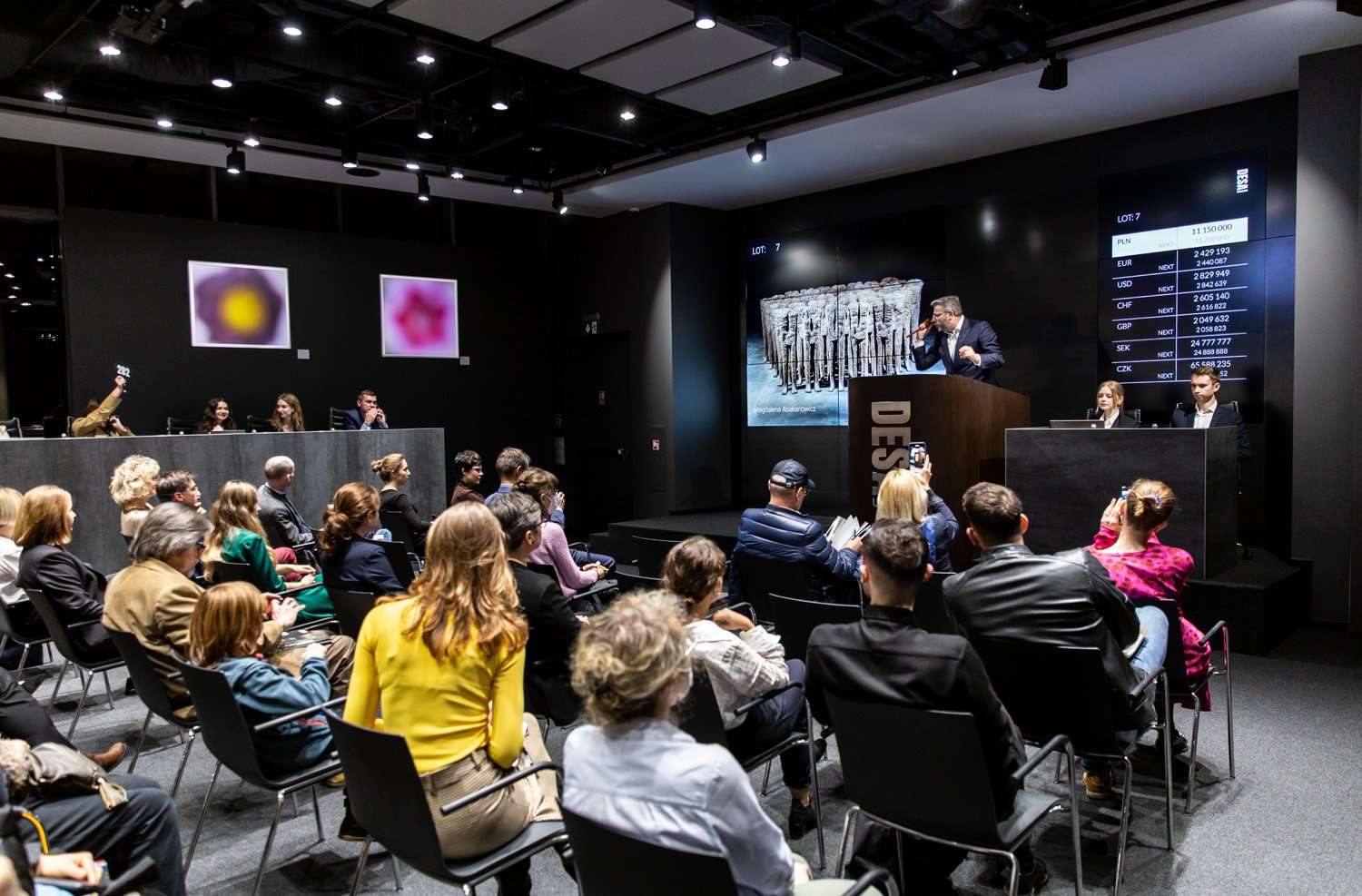 The "Crowd III" consists of fifty hollowed-out, jute objects, resembling a human figure up to the torso height. Each figure measures one hundred and seventy centimeters in height and was individually sculptured by the artist, which resulted in every element having a unique shape. The work was originally presented at the artist's solo exhibition in the Marlborough Gallery in New York, 1989, and later at displays in Japan, e.g., in Nagano and Hiroshima. Up until now, the artist's latest most expensive work was the installation "Caminando" consisting of twenty figures. It was sold for over PLN 8 million also at DESA Unicum in 2019.
The aluminum sculpture by the same author from 2008, "Ucello", was also sold at the auction for PLN 960,000. Other high-priced sculptures from 1987 include "Kain" by Mirosław Bałka (PLN 2.4 million, which exceeded the estimated price by three times) and "Torso" by Igor Mitoraj (PLN 672,000). 
The sculpture "Head" of the recent record holder, Zdzisław Beksiński, aroused no less interest. Its final price amounted to PLN 336,000. At the recent auction " Magical Art. Surrealism and Magic Realism" the artist's painting "Figure" broke the record with its price of PLN 1.9 million and has indicated the ever-growing collectors' interest in surrealism
Modernist and interwar sculptures also enjoyed great popularity. Wacław Szymanowski's early work, "Wind" ("Le Vent") from his Paris period, was sold for PLN 72,000. The Fryderyk Chopin monument design by August Zamoyski reached the price of PLN 114,000 and the work by the classic artist of the interwar period, Stanisław Jackowski, titled "Making a Braid" reached the amount of PLN 102,000.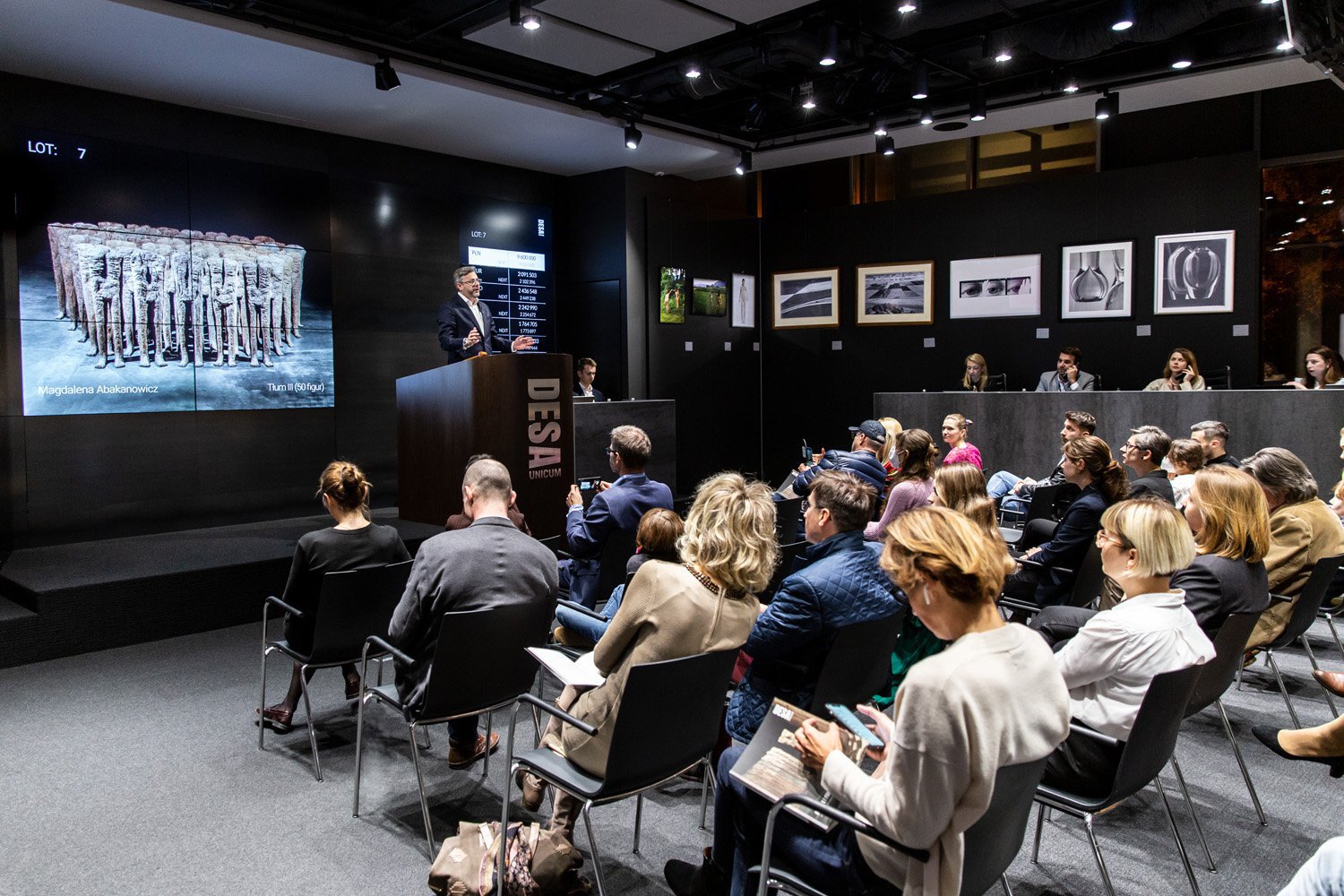 MODERN AND CONTEMPORARY SCULPTURE
See auction results