Old Masters, 19th Century and Modern Art (results)
12 December 2019, 7 PM CET
Julian Falat (1853 - 1929)
Elk hunt, 1914
Hammer price:
100,000 PLN
48
Julian Falat (1853 - 1929)
Elk hunt, 1914
Hammer price:

100,000 PLN
oil on canvas mounted on paperboard, 70 x 97.5 cm
signed and dated lower right: JFalat | 1914'
on the reverse painting sketch by the artist, paper label of art materials warehouse: 'M. Nowicki & R. Grunastel' in Poznan and label with dedication
ID: 80160

Taxes and fees
- In addition to the hammer price, the successful bidder agrees to pay us a buyer's premium on the hammer price of each lot sold. On all lots we charge 18 % of the hammer price.

More information
Julian Fałat zajmuje pośród artystów polskiego modernizmu zajmuje miejsce szczególne. Jego dzieła, wyrosłe na gruncie realizmu, nie poddają się łatwym klasyfikacjom i nie ulegają powierzchownym stylizacjom. Prawdziwym przełomem w twórczości malarza była wyprawa na początku 1886 roku do Nieświeża, na kresy dawnej Rzeczpospolitej, gdzie odbyło się polowanie zorganizowane przez Antoniego Radziwiłła, ówczesnego pana na tamtejszym zamku. Książę, przywracający wówczas miejscowości rangę magnackiej stolicy, zapraszał do siebie europejską arystokrację. Szerokim echem odbił się w rzeczonym roku przyjazd do dóbr Radziwiłłów księcia Wilhelma Pruskiego, dwa lata później koronowanego na cesarza niemieckiego jako Wilhelm II. Jeszcze w tym samym roku Fałata powołano na prestiżowe stanowisko: książę uczynił go nadwornym malarzem, przez co artysta rezydował w Berlinie do 1895. W tym okresie jego dorobek wzbogacił się o przedstawienia polowań w łowieckich dobrach Hohenzollernów w Schorfheide, na północ od stolicy, w których od połowy XIX wieku znajdował się pałacyk łowiecki Hubertusstock. Twórca bywał tam rokrocznie, ostatni raz w 1900. Często towarzyszył monarsze w cesarskich polowaniach w Romintach Wielkich w Prusach Wschodnich. Pojawiał się także na łowach w majątkach arystokracji, by uwieczniać w akwareli lub technice olejnej powroty myśliwych, nagonki czy powaloną zwierzynę. Bliżej 1900 roku pojawia się w jego twórczości odrębny temat polowania na łosia. Anna Król, monografistka artysty opisuje je tymi słowy: "panoramiczne kompozycje, ukazujące rozległe, ubogie krajobrazy z Polesia, z jeziorami i mokradłami, z rachitycznymi, rzadkimi drzewami, na których zwierzęta pełnią rolę raczej sztafażu. Linia horyzontu dzieli zazwyczaj płótno na dwie równe części, a rozświetlone słońcem przestrzenie przypominają o indywidualnym przetworzeniu założeń impresjonizmu. Te szkicowe sugestywne, nieco melancholijne krajobrazy zdają się znakiem panteistycznej postawy Fałata wobec natury" (Anna Król, Julian Fałata, katalog wystawy, Muzeum Regionalne w Stalowej Woli, Muzeum Okręgowe w Toruniu, Muzeum Miedzi w Legnicy, Stalowa Wola 2009, s. 55). W tych niemalże medytacyjnych kompozycjach, w tym w prezentowanym "Polowaniu na łosia" obecny jest pierwiastek japonizmu. Syntetyczne, pasowe widoki, malowane mokrą farbą rozrobioną z dużą ilością oleju zbliżają się do malarstwa akwarelowego artysty i odsłaniają transcendentny wymiar natury.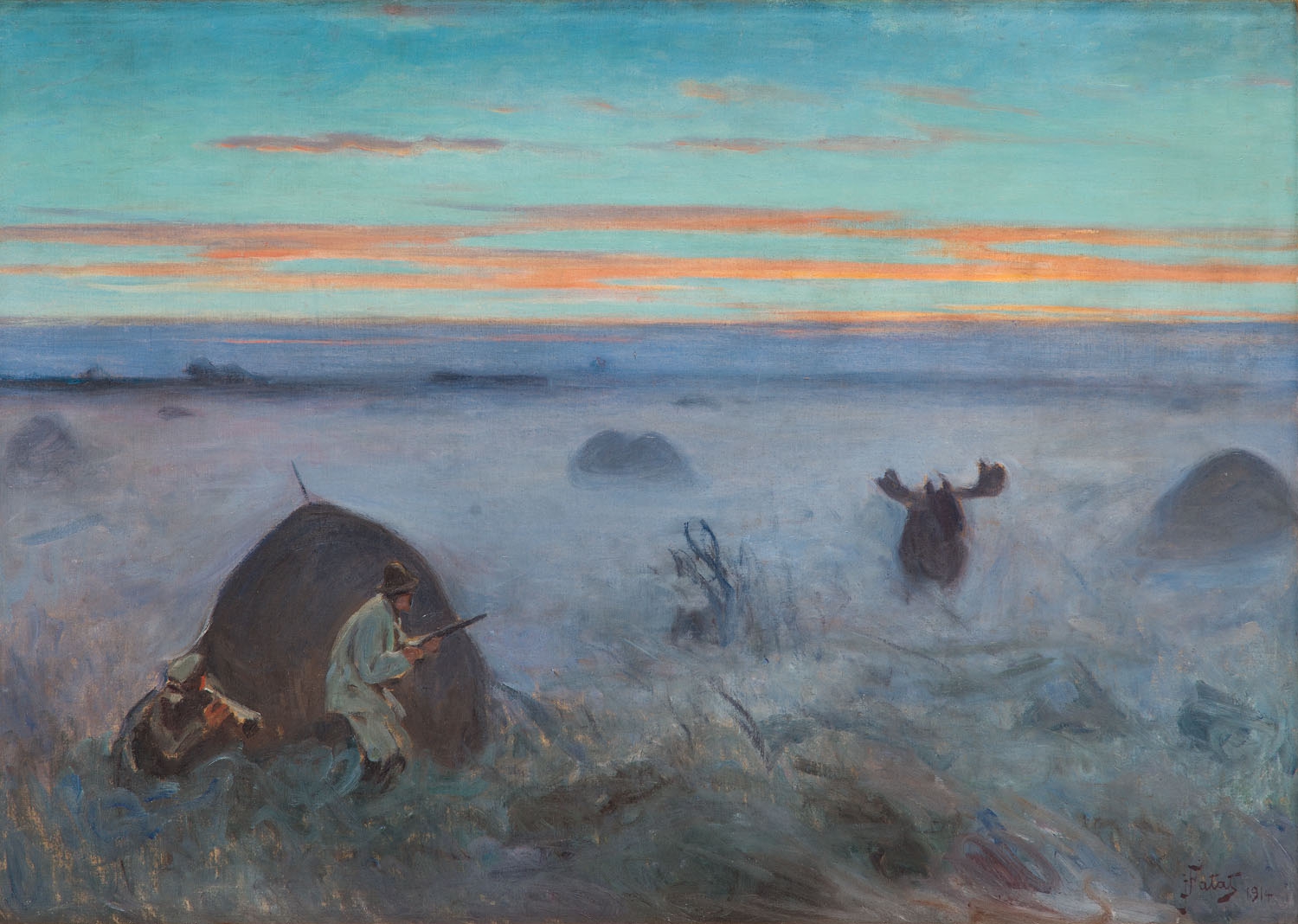 Dodaj obiekt
1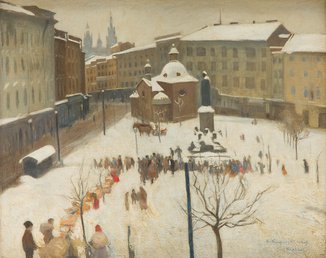 Alfons Karpinski
Market in Krakow, 1907
2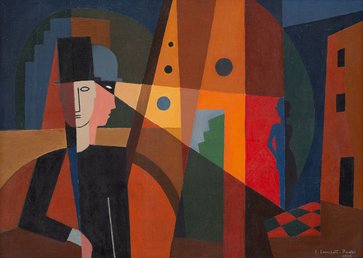 Jean Lambert-Rucki
Cubist compostion with personages, 1925
3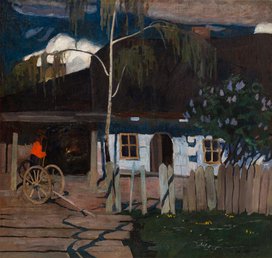 Henryk Szczyglinski
Farm in Bronowice, circa 1905-07
4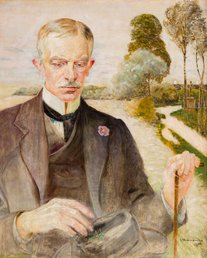 Jacek Malczewski
Portrait of Karol Potkanski, 1906
Hammer price:
330,000 PLN
5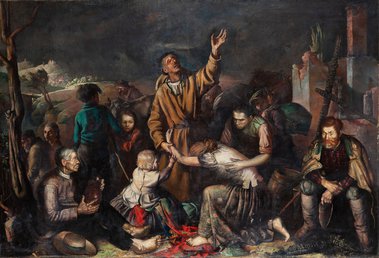 Jan Zamoyski
"Expatriates 1915" ("Fire victims"), 1925-1929
Hammer price:
320,000 PLN
6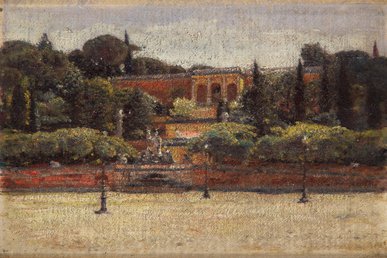 Aleksander Gierymski
Piazza del Popolo in Rome, study ("Pincio Roma"), 1899
7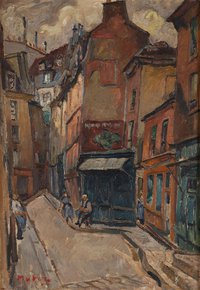 Mela Muter / Maria Melania Mutermilch
Street in Paris
Hammer price:
220,000 PLN
8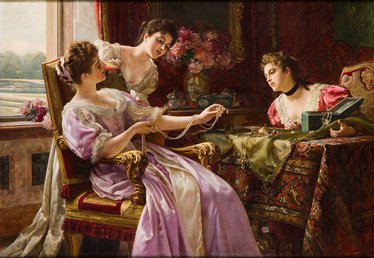 Wladyslaw Czachorski
Ladies with jewels, 1890s
Hammer price:
1,800,000 PLN
9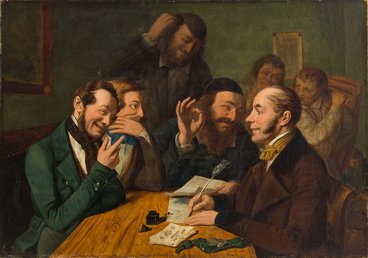 Feliks Peczarski
"Profiteers", 1844
10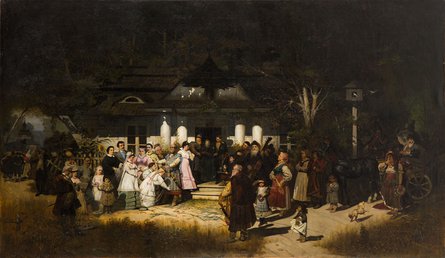 Wandalin Strzalecki
"Polish Wedding", 1881
Hammer price:
190,000 PLN
11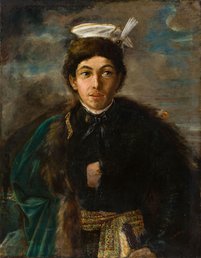 Maurycy Gottlieb
Self-portrait in Polish nobleman's dress, 1874
Hammer price:
2,650,000 PLN
12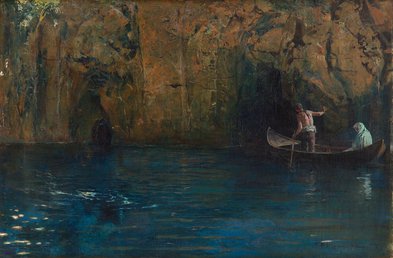 Feliks Michal Wygrzywalski
Charon's boat, 1917
13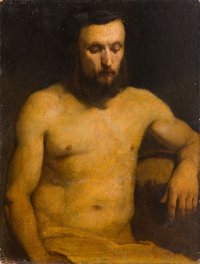 Jan Matejko
"Torso of male figure", 1859
Hammer price:
230,000 PLN
14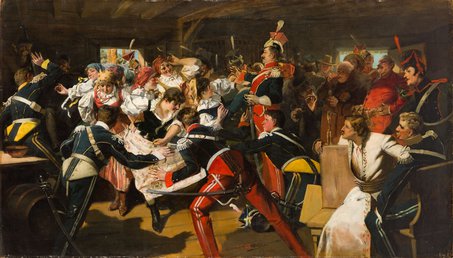 Jan Czeslaw Moniuszko
Revelry in tavern, 1900
15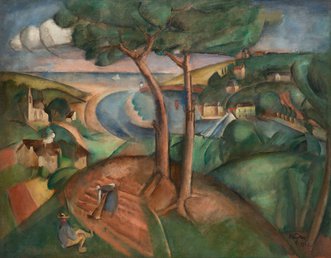 Henryk Hayden
Landscape with estuary, 1912
Hammer price:
340,000 PLN
16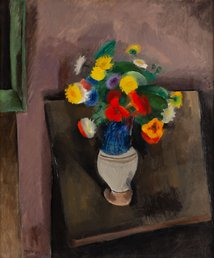 Henryk Hayden
Still life with vase of flowers, 1915
17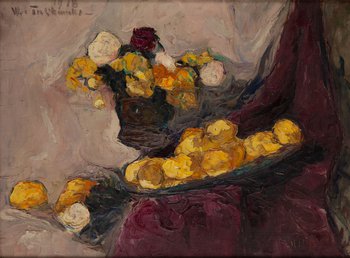 Wlodzimierz Terlikowski
Still life with fruit and flower bouquet, 1918
18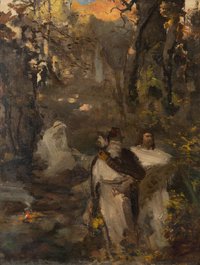 Henryk Siemiradzki
Study of three people against the landscape, circa 1874
19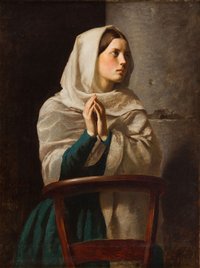 Jules Breton
Young woman praying in church, 1854
20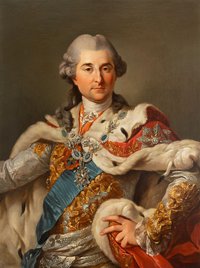 Marcello Bacciarelli and studio
Portrait of King Stanislaw August Poniatowski in coronation robes
Hammer price:
500,000 PLN
21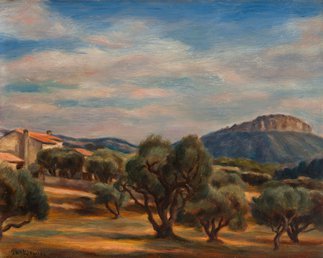 Jozef Pankiewicz
View from olive grove on Couronne de Charlemange in Cassis, 1928
Hammer price:
140,000 PLN
22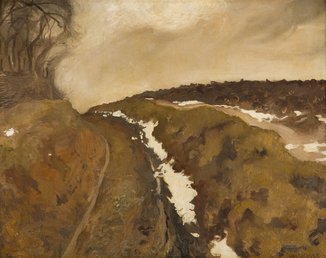 Kazimierz Sichulski
Spring melt, 1904
23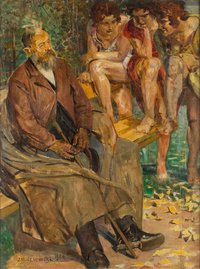 Jacek Malczewski
Old man and muses, 1900
24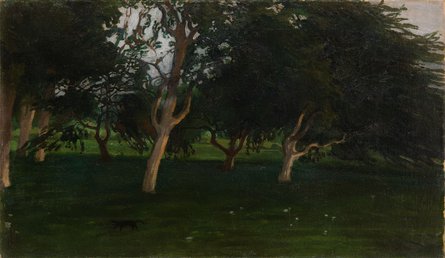 Jozef Mehoffer
"Dusk in orchard", 1909
25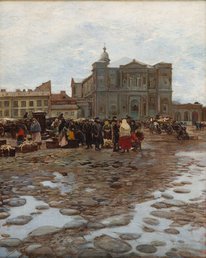 Stanislaw Maslowski
View on Grzybowski Square in Warsaw ("Construction of All Saints Church"), before 1892
26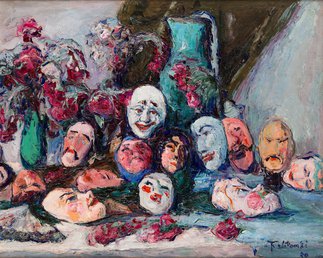 Wlodzimierz Terlikowski
Masks, 1920
Hammer price:
100,000 PLN
27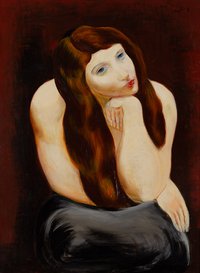 Mojzesz Kisling
Seated girl
Hammer price:
300,000 PLN
28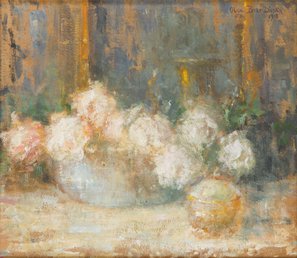 Olga Boznanska
Still life with pink and white roses, 1918
Hammer price:
160,000 PLN
29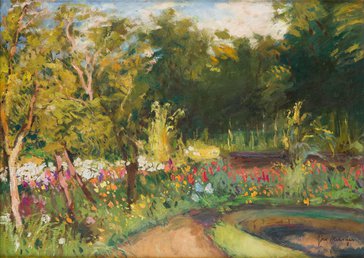 Jozef Mehoffer
Flower garden, circa 1930
30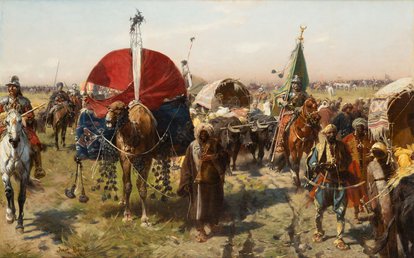 Jozef Brandt
Procession with the spoils - Return from Vienna, circa 1883-84
Hammer price:
2,000,000 PLN
31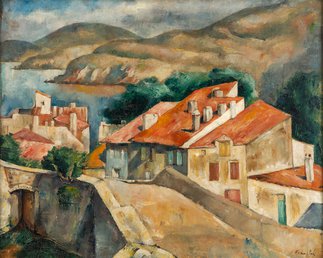 Roman Kramsztyk
Little village against the mountains - southern landscape, circa 1914
Hammer price:
190,000 PLN
32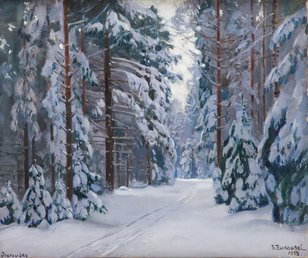 Stanislaw Julianowicz Zukowski
Forest lane in winter, 1928
33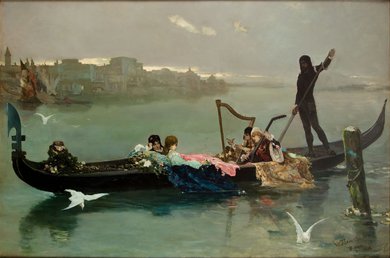 Wilhelm Kotarbinski
Venetian serenade, 1881
Hammer price:
2,000,000 PLN
34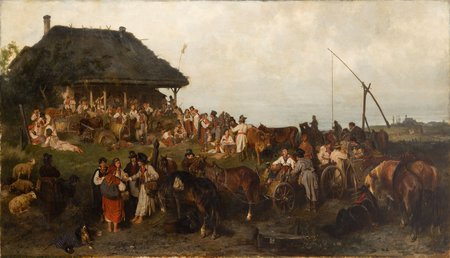 Jozef Brandt
Fair in the region of Krakow ("Return from the fair in Opoczynskie region"), 1868
Hammer price:
2,000,000 PLN
35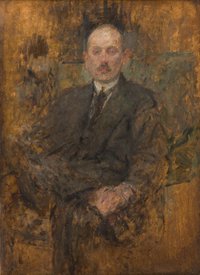 Olga Boznanska
Portrait of Mr Beyley, przed 1921
36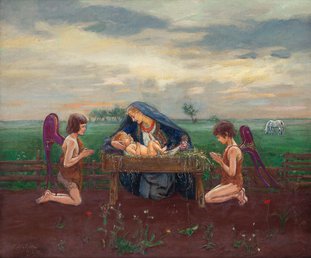 Wlastimil Hofman
Nativity, 1913
37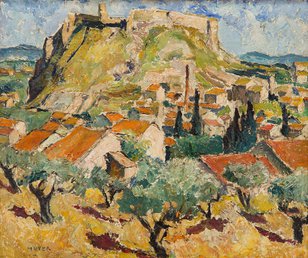 Mela Muter / Maria Melania Mutermilch
"Avignon" (View on Fort Saint-André in Villeneuve-les-Avignon), 1940
38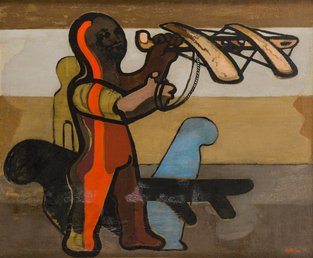 Jankiel Adler
Boy with airplane (Child with catapult), circa 1932
39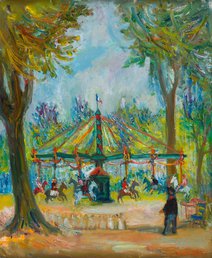 40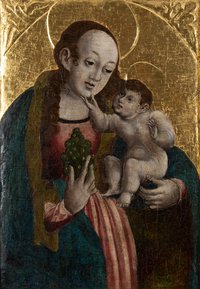 Unknown Studio, Cracow (16th Century)
Madonna with Child and bunch of grapes, circa 1520-40
41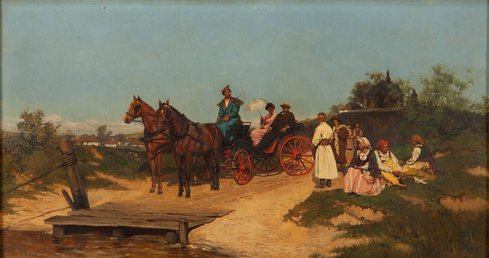 Zdzislaw Jan Konopacki
Waiting for the ferry, 1881
42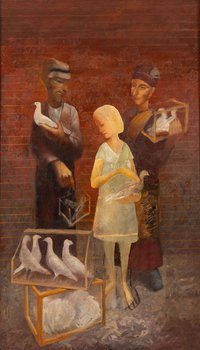 Boleslaw Cybis
"Goshawks", 1932-35
Hammer price:
800,000 PLN
43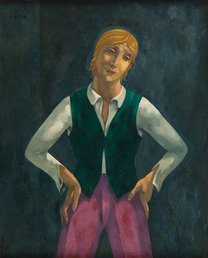 Eugeniusz Zak
"Boy in green waistcoat", 1919
Hammer price:
750,000 PLN
44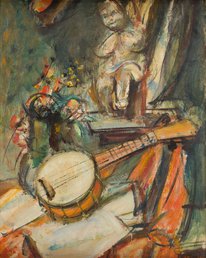 Zygmunt Jozef Menkes
Still life with banjo
45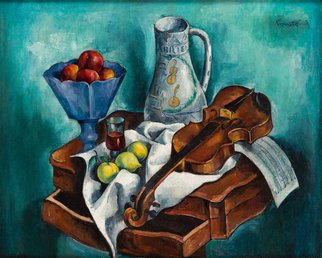 Roman Kramsztyk
Still life with violin, circa 1920-24
Hammer price:
250,000 PLN
46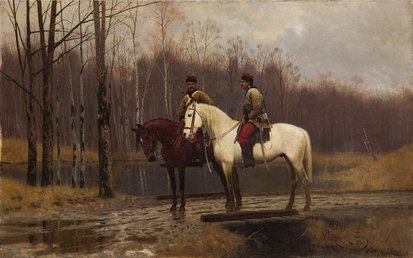 Wlodzimierz Los
Insurgent patrol, 1883
47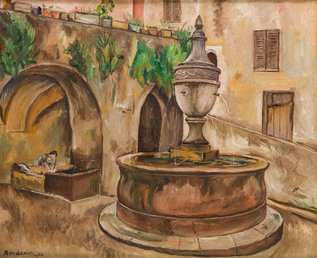 Szymon Mondzain
Fountain in Saint Paul de Vence, 1923
48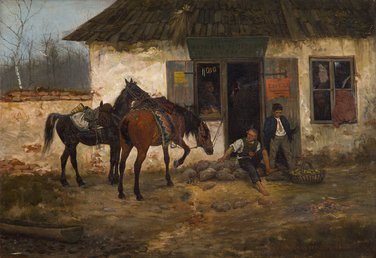 Jozef Ryszkiewicz
In the front of tavern, 1880
49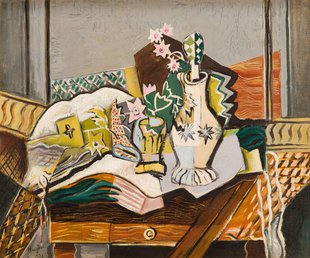 Henryk Hayden
Still life with carafe, 1920
50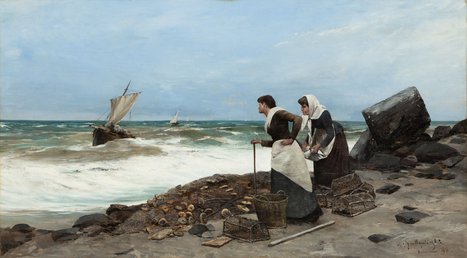 Michal Gorstkin Wywiorski
Breton seashore, 1886
51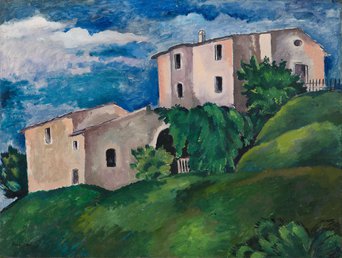 Eugeniusz Zak
Landscape from southern France, circa 1921
Hammer price:
140,000 PLN
52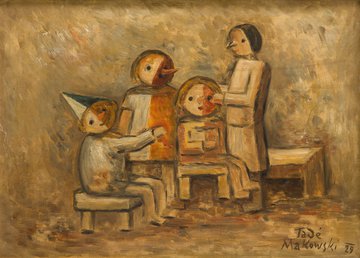 Tadeusz Makowski
Little family ("La petite famille"), 1929
Hammer price:
300,000 PLN
53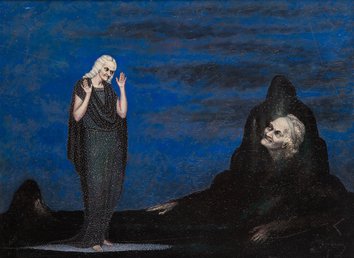 Boleslaw Biegas
"Voltaire", from the series "Famous people", 1928-29
54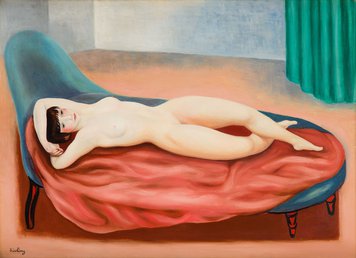 Mojzesz Kisling
Reclining nude on the red sheet, 1929
Hammer price:
1,100,000 PLN
55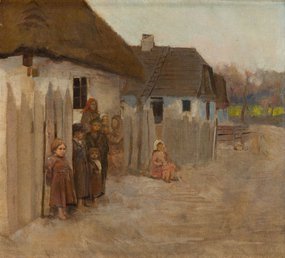 Wladyslaw Podkowinski
Countryside II, circa 1890-91
56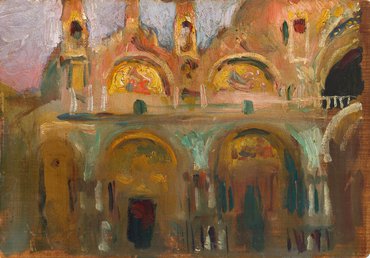 Jan Stanislawski
St Mark's Basilica in Venice, 1899 (?)
57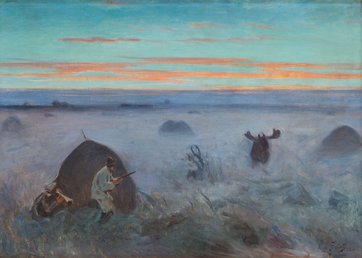 Julian Falat
Elk hunt, 1914
Hammer price:
100,000 PLN