Fair in the region of Krakow ("Return from the fair in Opoczynskie region"), 1868
Old Masters, 19th Century and Modern Art (results)
12 December 2019, 7 PM CET
Jozef Brandt (1841 - 1915)
Fair in the region of Krakow ("Return from the fair in Opoczynskie region"), 1868
Hammer price:
2,000,000 PLN
7
Jozef Brandt (1841 - 1915)
Fair in the region of Krakow ("Return from the fair in Opoczynskie region"), 1868
Hammer price:

2,000,000 PLN
oil on canvas, 95 x 169 cm
signed and dated lower left: 'Jozef Brandt | 1868'
on the reverse hard legible red stamp

HISTORICAL TITLES: Chlopi wracajacy z jarmarku w Opoczynskim przed karczma w Drzewicy, Jarmark, Jarmark w okolicach Krakowa, Jarmark w Opoczynskiem
ID: 79696

Taxes and fees
- In addition to the hammer price, the successful bidder agrees to pay us a buyer's premium on the hammer price of each lot sold. On all lots we charge 18 % of the hammer price.

Provenance
sale in Galerie Wimmer, Munich, June 1868
Henry Wallis (1805-1890), owner of French Gallery, london
Hotel des Ventes Nice Riviera, Nicea (auction December 2006)
family collection, Poland
after division of assets private collection, Warsaw
Literature
Jozef Brandt 1841-1915, edited by Ewa Micke-Broniarek, exhibition catalogue, National Museum in Warsaw, Warszawa 2018, cat. no. I.24
Ewa Micke-Broniarek, Tematy rodzajowe w malarstwie Jozefa Brandta / Genre themes in Jozef Brandt's painting, in: Jozef Brandt (1841-1915). Miedzy Monachium a Oronskiem / Between Munich and Oronsko, ed. by Monika Bartoszek, Centre for Polish Sculpture, 20 June 25 October 2015, Oronsko 2015, p. 11
"Cenne, Bezcenne, Utracone / Valuable, Priceless, Lost", special publication: Katalog utraconych dziel sztuki / Catalogue of Losses, National Institute for Museums and Public Collections, Warszawa 2013, p. 5, cat. no. and ill. 3
Wlodzimierz Kalicki, Polska sztuka drozej i wraca do Polski, online, gazeta.pl, 6th December 2006
Bogdan Zakrzewski, Sienkiewicz i Brandt, 1947 maszynopis, doctoral thesis, University Library in Poznan, sig. 999771
Henryk Piatkowski, Jozef Brandt, "Wedrowiec" 1905, no. 40, p. 757 (ill.)
"Biesiada Literacka" 1882, no. 325, p. 184-85 (ill.)
"Tygodnik Powszechny" 1878, no. 45, p. 708 (ill.)
Aleksander Lesser, Z dziedziny malarstwa i rzezby, "Klosy" 1868, no. 166, p. 114
K.W., Wystawa krajowa sztuk pieknych. I. pp. Brand, Kurella, Horowitz, Miller, "Kurier Codzienny" 1868, no. 182, p. 2
Ludwik Jenike, Brandt i Gryglewski, "Tygodnik Ilustrowany" 1868, no. 33, p. 81
"Die Dioskuren" 1868, yearbook 13, no. 25, p. 209
ARCHIWALIA:
Archiwum rodziny Pruszakow, zbiory Macieja Stachury, Spis obrazow Jozefa Brandta (namalowanych do 1908), rekopis, poz. 19.
fotografia obrazu ze zbiorow artysty, Muzeum im. Jacka Malczewskiego w Radomiu, Dzial Sztuki, nr inw. Dspl. 80
list Jozefa Brandta do Walerego Eljasza z dn. 26 listopada 1867 roku, Muzeum Narodowe w Warszawie, Zbiory Ikonograficzne i Fotograficzne, nr inw. rkps 759/25 MNW
More information
Lato 1867 roku – co w kontekście prezentowanego "Targu w okolicach Krakowa" odnotowuje Ewa Micke-Broniarek – malarz spędził u rodziny w Drzewicy, pięćdziesiąt kilometrów na zachód od Radomia. Artysta studiował wówczas lokalny krajobraz, a po powrocie do Monachium szkice wykorzystał do stworzenia dużego obrazu sztalugowego. W taki sposób powstało prezentowane dzieło. Nazywany zwyczajowo "Targiem w okolicach Krakowa" obraz przedstawia scenę z Opoczyńskiego (Drzewica oddalona jest od Opoczna o dwadzieścia kilometrów). Zachowana korespondencja Brandta z przyjacielem Walerym Eljaszem pozwala rekonstruować warunki powstania obrazu. Artysta zachwycił się ludowym strojem i małopolskim pejzażem. W jednym z listów do matki i wuja określił obraz jako przedstawienie "chłopów wracających z targu w Opoczyńskim przed karczmą w Drzewicy" (cyt. za: Józef Brandt 1841-1915, redakcja naukowa Ewa Micke-Broniarek, katalog wystawy, Muzeum Narodowe w Warszawie, t. II, Warszawa 2018, s. 45). "Targ w okolicach Krakowa" jawi się jako dzieło popisowe 26-letniego artysty. Ponad pięćdziesiąt postaci ubranych w ludowe opoczyńskie stroju, z dominującymi akcentami koloru pomarańczowego w strojach kobiecych. Brandt z lubością podpatrywał lokalny folklor, co znajduje swoje odbicie w dziele. Postaci nie są stypizowane, różnią się fizjonomią, nakryciami głowy, odzieżą czy obuwiem. Kompozycyjnie obraz składa się z dwóch głównych linii diagonalnych, które spotykają się w prawej części dzieła: obok dwóch wozów. Jedną z nich wędruje ku dolnej części płótna, druga ku górze i karczmie, która narracyjnie stanowi tutaj dominantę. Powracający z targu chłopi zatrzymali się przed nią, aby zaznać napitku i strawy. Ludzie i zwierzęta tworzą rodzaju barwnego korowodu. Brandt, bazując na własnym doświadczeniu terenowym, stworzył "salonowe" dzieło uwodzące widza efektowną wizją "orientalnej", wschodniej Europy – tak popularnej w malarstwie polskich monachijczyków. W "Targu w okolicach Krakowa" bodaj po raz pierwszy malarz prezentuje się jako wytrawny animalista – jego wizerunki koni, psów, świń, owiec i wołów urzekają realizmem i zdolnością podpatrywania natury.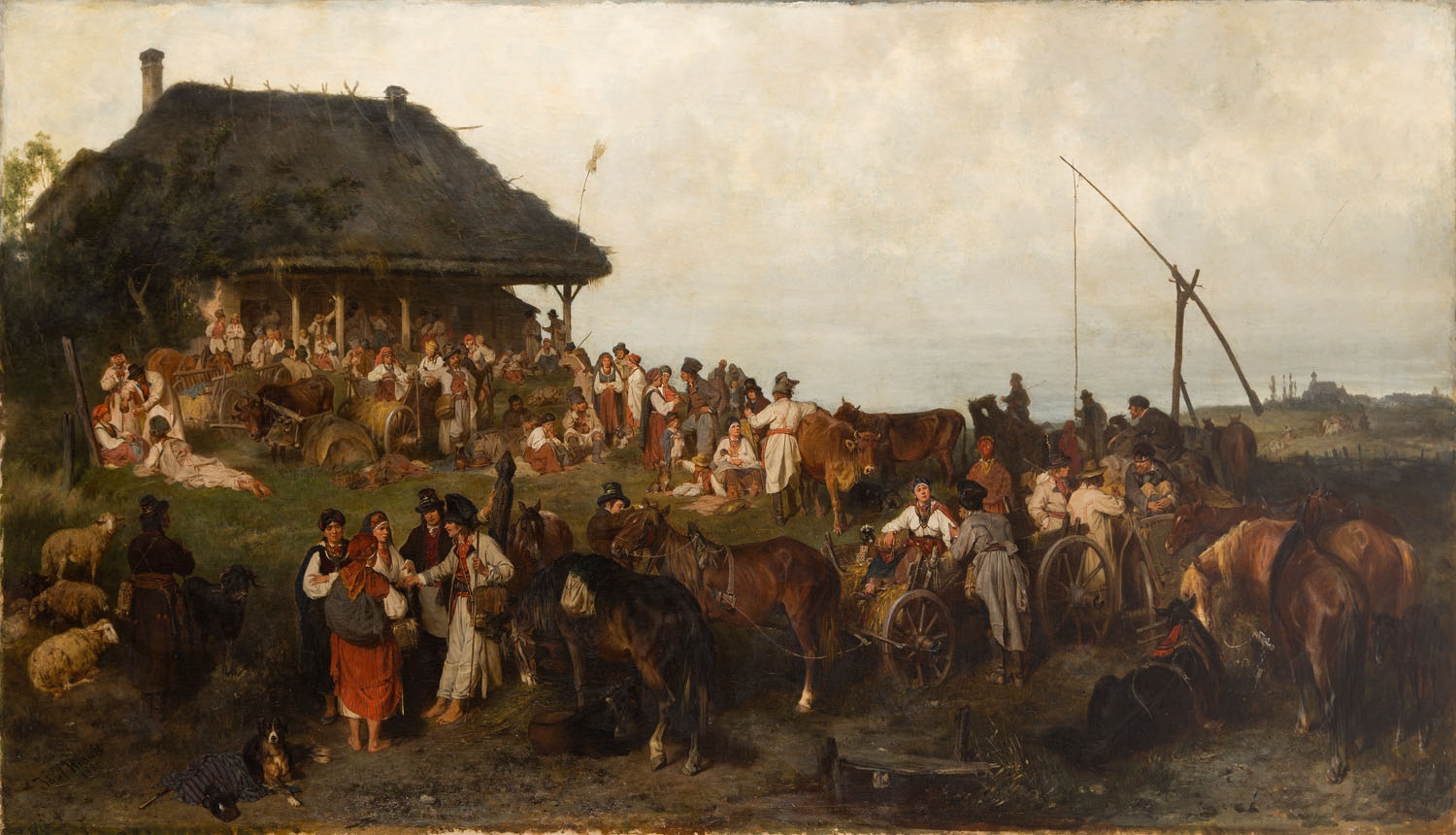 Dodaj obiekt
1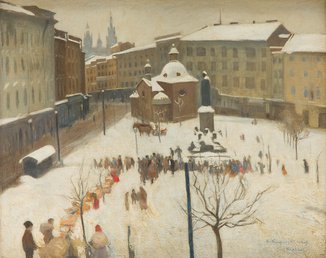 Alfons Karpinski
Market in Krakow, 1907
2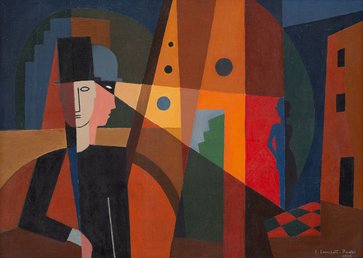 Jean Lambert-Rucki
Cubist compostion with personages, 1925
3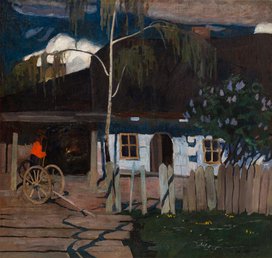 Henryk Szczyglinski
Farm in Bronowice, circa 1905-07
4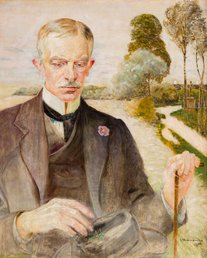 Jacek Malczewski
Portrait of Karol Potkanski, 1906
Hammer price:
330,000 PLN
5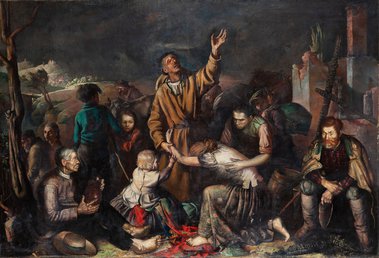 Jan Zamoyski
"Expatriates 1915" ("Fire victims"), 1925-1929
Hammer price:
320,000 PLN
6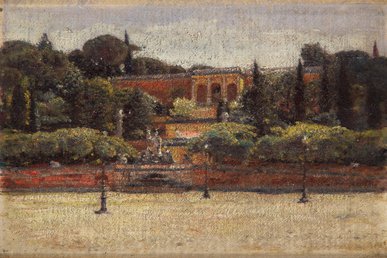 Aleksander Gierymski
Piazza del Popolo in Rome, study ("Pincio Roma"), 1899
7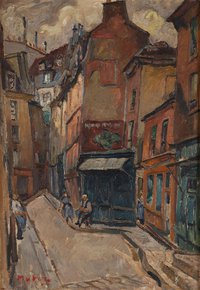 Mela Muter / Maria Melania Mutermilch
Street in Paris
Hammer price:
220,000 PLN
8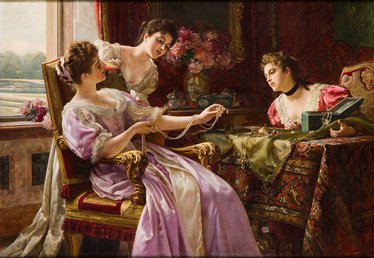 Wladyslaw Czachorski
Ladies with jewels, 1890s
Hammer price:
1,800,000 PLN
9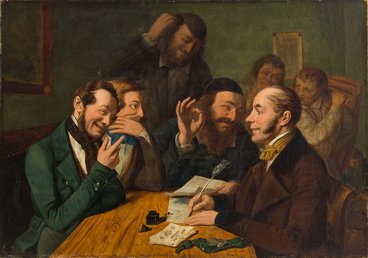 Feliks Peczarski
"Profiteers", 1844
10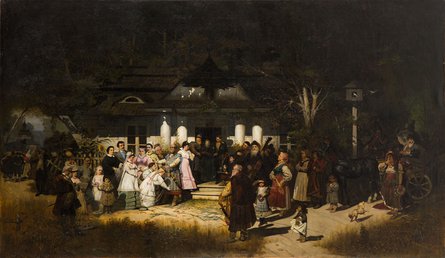 Wandalin Strzalecki
"Polish Wedding", 1881
Hammer price:
190,000 PLN
11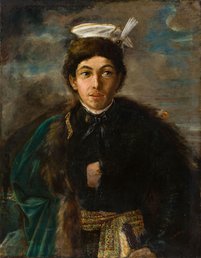 Maurycy Gottlieb
Self-portrait in Polish nobleman's dress, 1874
Hammer price:
2,650,000 PLN
12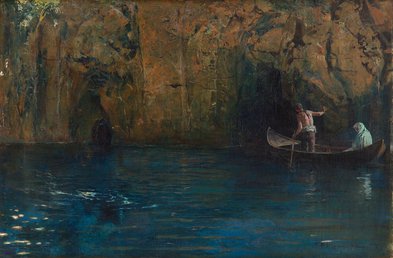 Feliks Michal Wygrzywalski
Charon's boat, 1917
13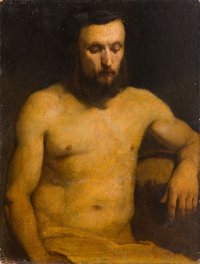 Jan Matejko
"Torso of male figure", 1859
Hammer price:
230,000 PLN
14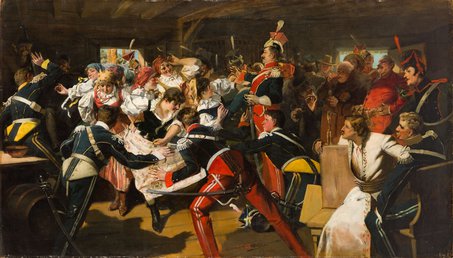 Jan Czeslaw Moniuszko
Revelry in tavern, 1900
15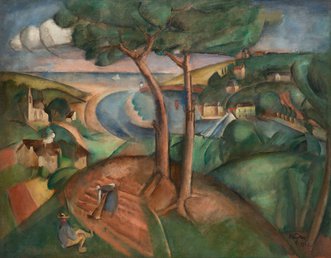 Henryk Hayden
Landscape with estuary, 1912
Hammer price:
340,000 PLN
16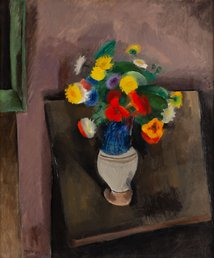 Henryk Hayden
Still life with vase of flowers, 1915
17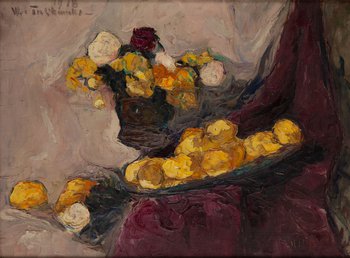 Wlodzimierz Terlikowski
Still life with fruit and flower bouquet, 1918
18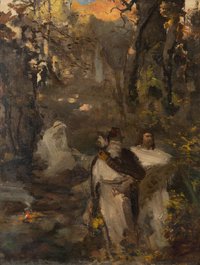 Henryk Siemiradzki
Study of three people against the landscape, circa 1874
19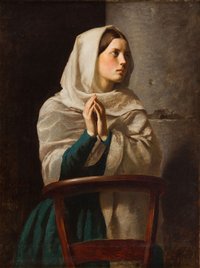 Jules Breton
Young woman praying in church, 1854
20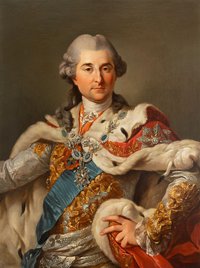 Marcello Bacciarelli and studio
Portrait of King Stanislaw August Poniatowski in coronation robes
Hammer price:
500,000 PLN
21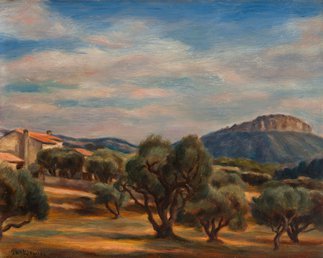 Jozef Pankiewicz
View from olive grove on Couronne de Charlemange in Cassis, 1928
Hammer price:
140,000 PLN
22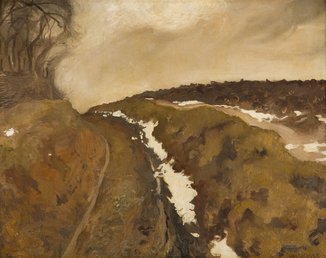 Kazimierz Sichulski
Spring melt, 1904
23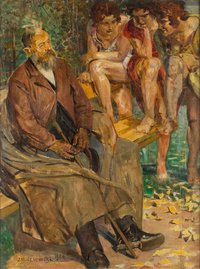 Jacek Malczewski
Old man and muses, 1900
24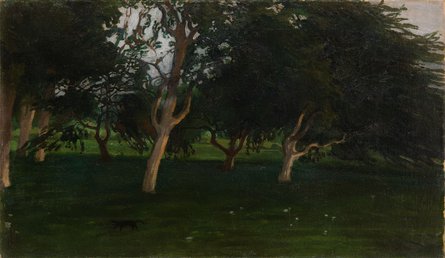 Jozef Mehoffer
"Dusk in orchard", 1909
25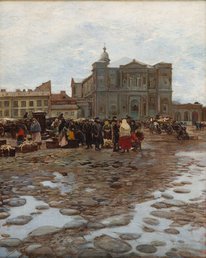 Stanislaw Maslowski
View on Grzybowski Square in Warsaw ("Construction of All Saints Church"), before 1892
26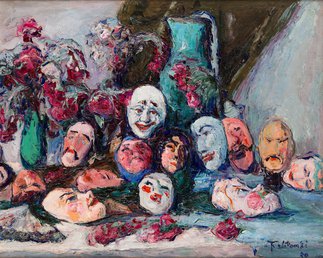 Wlodzimierz Terlikowski
Masks, 1920
Hammer price:
100,000 PLN
27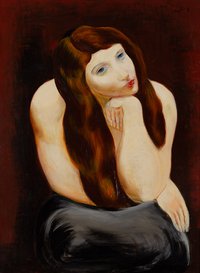 Mojzesz Kisling
Seated girl
Hammer price:
300,000 PLN
28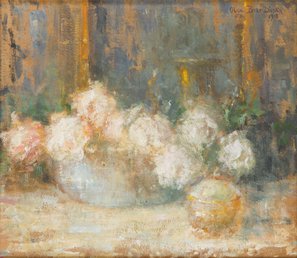 Olga Boznanska
Still life with pink and white roses, 1918
Hammer price:
160,000 PLN
29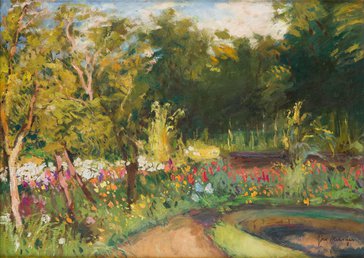 Jozef Mehoffer
Flower garden, circa 1930
30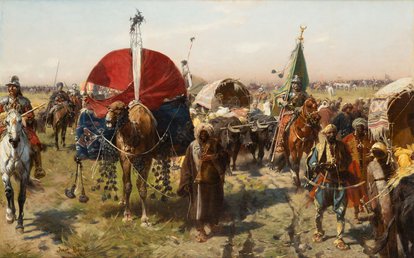 Jozef Brandt
Procession with the spoils - Return from Vienna, circa 1883-84
Hammer price:
2,000,000 PLN
31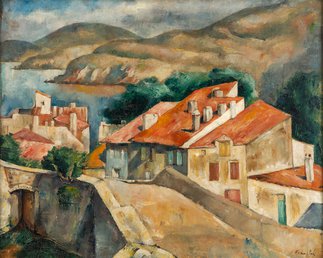 Roman Kramsztyk
Little village against the mountains - southern landscape, circa 1914
Hammer price:
190,000 PLN
32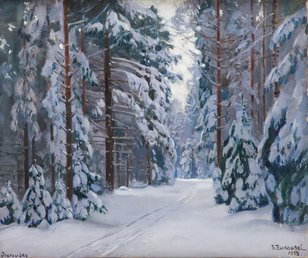 Stanislaw Julianowicz Zukowski
Forest lane in winter, 1928
33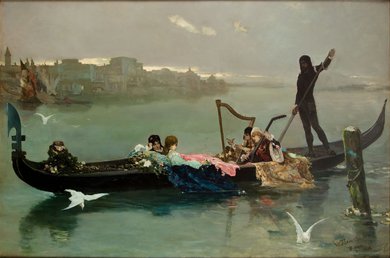 Wilhelm Kotarbinski
Venetian serenade, 1881
Hammer price:
2,000,000 PLN
34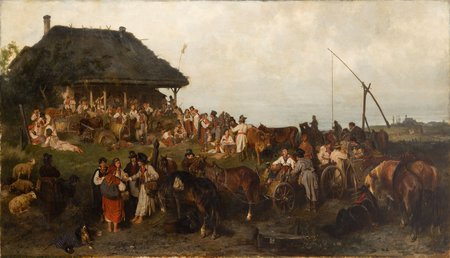 Jozef Brandt
Fair in the region of Krakow ("Return from the fair in Opoczynskie region"), 1868
Hammer price:
2,000,000 PLN
35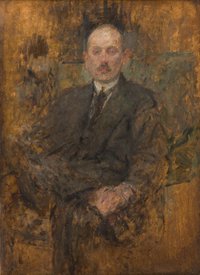 Olga Boznanska
Portrait of Mr Beyley, przed 1921
36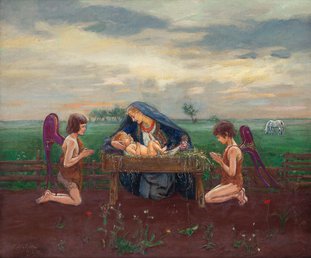 Wlastimil Hofman
Nativity, 1913
37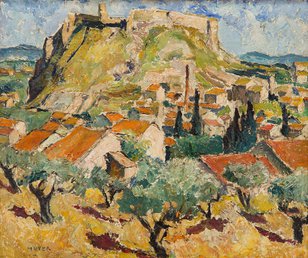 Mela Muter / Maria Melania Mutermilch
"Avignon" (View on Fort Saint-André in Villeneuve-les-Avignon), 1940
38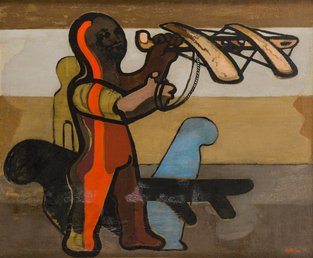 Jankiel Adler
Boy with airplane (Child with catapult), circa 1932
39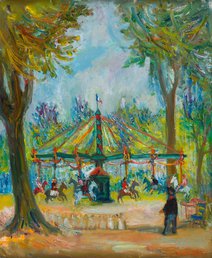 40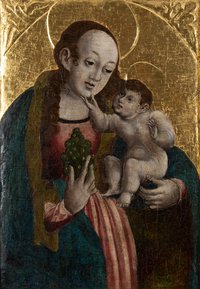 Unknown Studio, Cracow (16th Century)
Madonna with Child and bunch of grapes, circa 1520-40
41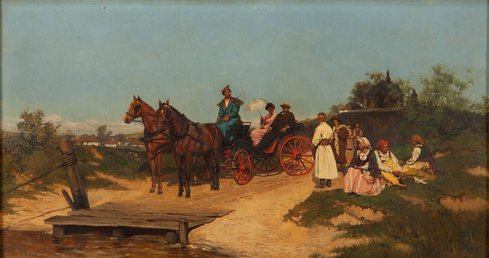 Zdzislaw Jan Konopacki
Waiting for the ferry, 1881
42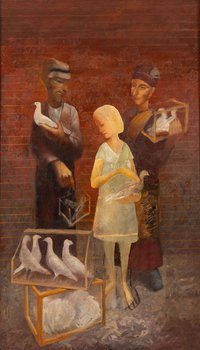 Boleslaw Cybis
"Goshawks", 1932-35
Hammer price:
800,000 PLN
43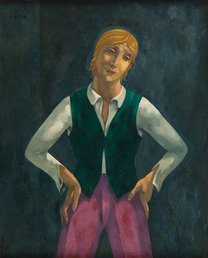 Eugeniusz Zak
"Boy in green waistcoat", 1919
Hammer price:
750,000 PLN
44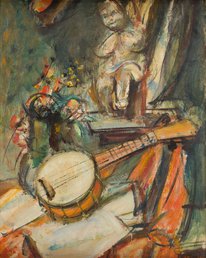 Zygmunt Jozef Menkes
Still life with banjo
45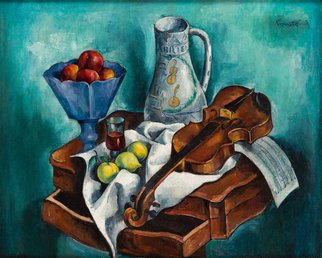 Roman Kramsztyk
Still life with violin, circa 1920-24
Hammer price:
250,000 PLN
46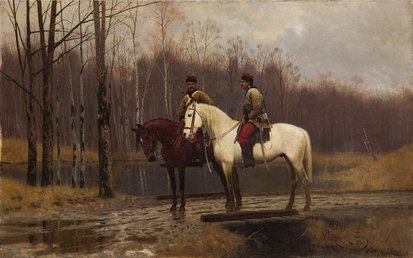 Wlodzimierz Los
Insurgent patrol, 1883
47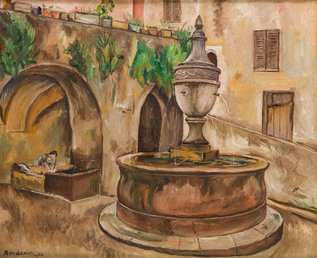 Szymon Mondzain
Fountain in Saint Paul de Vence, 1923
48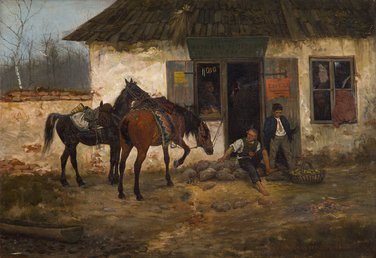 Jozef Ryszkiewicz
In the front of tavern, 1880
49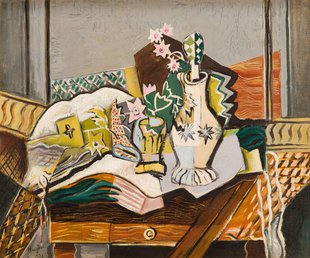 Henryk Hayden
Still life with carafe, 1920
50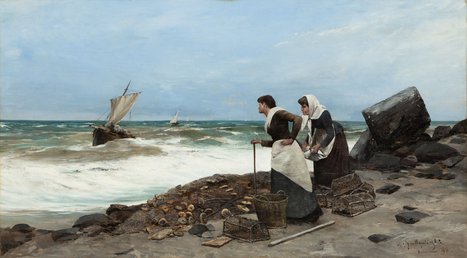 Michal Gorstkin Wywiorski
Breton seashore, 1886
51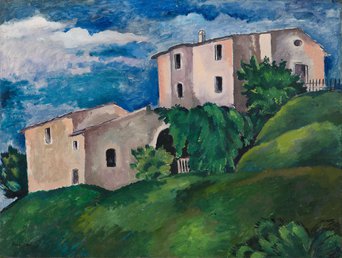 Eugeniusz Zak
Landscape from southern France, circa 1921
Hammer price:
140,000 PLN
52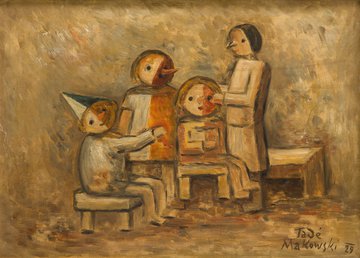 Tadeusz Makowski
Little family ("La petite famille"), 1929
Hammer price:
300,000 PLN
53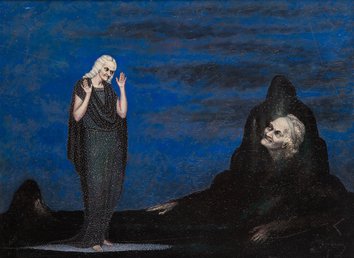 Boleslaw Biegas
"Voltaire", from the series "Famous people", 1928-29
54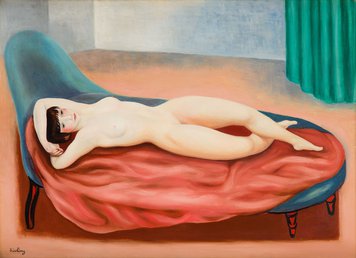 Mojzesz Kisling
Reclining nude on the red sheet, 1929
Hammer price:
1,100,000 PLN
55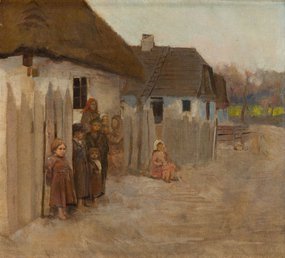 Wladyslaw Podkowinski
Countryside II, circa 1890-91
56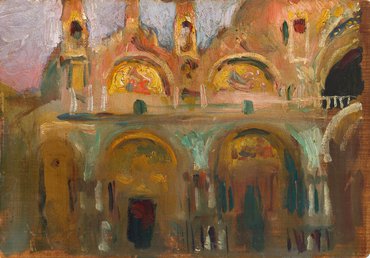 Jan Stanislawski
St Mark's Basilica in Venice, 1899 (?)
57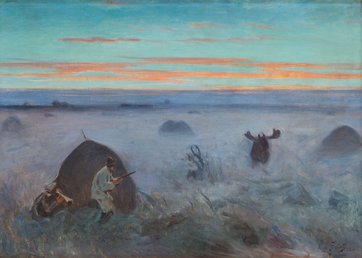 Julian Falat
Elk hunt, 1914
Hammer price:
100,000 PLN